The S&P 500 (SPX) rose last week, up 79 points to 2822, an increase of 2.9%.
The stock market rebound that started late last Friday turned into a complete reversal with the market gaining back the 3% it had lost the previous week.
But, after spurting higher, stocks appear ready to pullback. Let's look at the market cycles.
Our projection for the SPX this week is for some possible minor upside before rolling over towards our downside target around 2783.
Our analysis of the S&P 500 for this week is for possibly a little more upside before it rolls over into the declining phase of the current minor cycle.
We are looking to see if it zooms up to around 2854 or fails and enters the declining phase to visit our downside target of around 2783.
S&P 500 (SPX) Daily Chart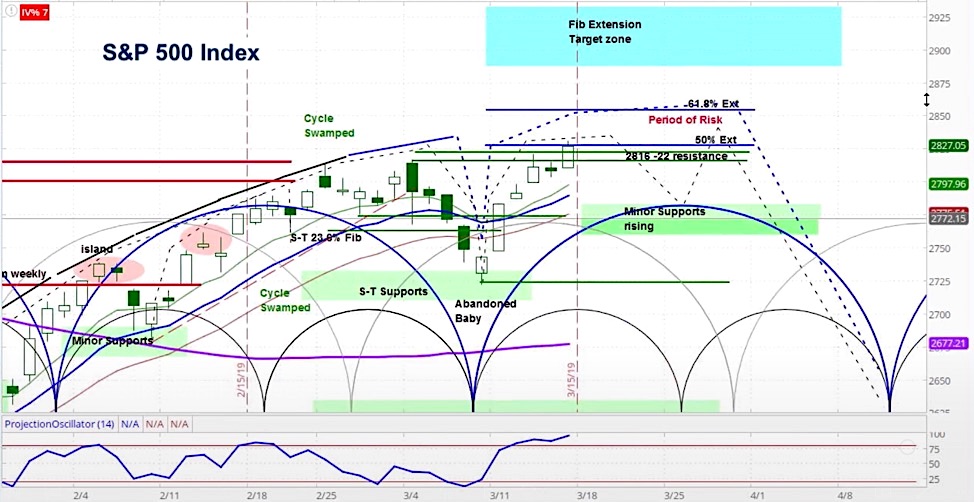 Market Week Video – March 17, 2019
One key story last week was that the Boeing (BA) flagship 737 MAX-8 incurred another accident, this time with Ethiopian Airlines. Because the problem was company-specific, it had little impact on the S&P 500, while it did push the Dow lower for a couple days.
In the UK, Prime Minister May lost her second key Brexit vote but lost this time by fewer votes. Also, Parliament voted against (a) a second referendum and (b) a "no deal" outcome, but voted in favor of a short delay. This coming week May could hold a vote on a third Brexit package.
Regarding the US-China trade talks, the market is no longer monitoring every heartbeat. For example, there was little impact when reports surfaced that the big meeting between Trump and Xi would be delayed due to still unresolved "major issues".
Trump nonetheless continued to bang the drum, "We'll have news on China — probably one way or the other. If a deal gets done, it will be something that people are going to be talking about for a long time because we have been really taken advantage of."
The macroeconomic data continued to paint a mixed picture. In the US, retail sales and job creation were stronger than expected, while inflation and home sales were weaker. In the UK, manufacturing and GDP were stronger but Chinese industrial production was weaker.
Meanwhile China confirmed the continuation of its targeted stimulus program. Premier Li Keqiang explained that, "We certainly need to take strong measures to face the downward pressure. Our choice is to energize market players."
For more from Slim, or to learn about cycle analysis, check out the askSlim Market Week show every Friday on our YouTube channel.
Twitter: @askslim
Any opinions expressed herein are solely those of the author, and do not in any way represent the views or opinions of any other person or entity.