Last week I wrote,
"Looking at the Modern Family, the Russell 2000 (NYSEARCA: IWM), if holds 134.65 by the end of this week, returns over the 200-week moving average and back from a weekly distribution phase into a weekly caution phase."
Furthermore,
"Transportation (NYSEARCA: IYT), is also back above its 200-WMA. That means IYT must close the week out over 164. While Semiconductors never broke its 200-WMA, all the others have traded well below theirs."
The charts show all six of the Economic Modern Family.
To date, they have never steered me wrong.
In a news sensitive market that yields 400-1000-point swings on any given day, I find huge solace in having these six charts as my guide.
What is the state of the Modern Family to date?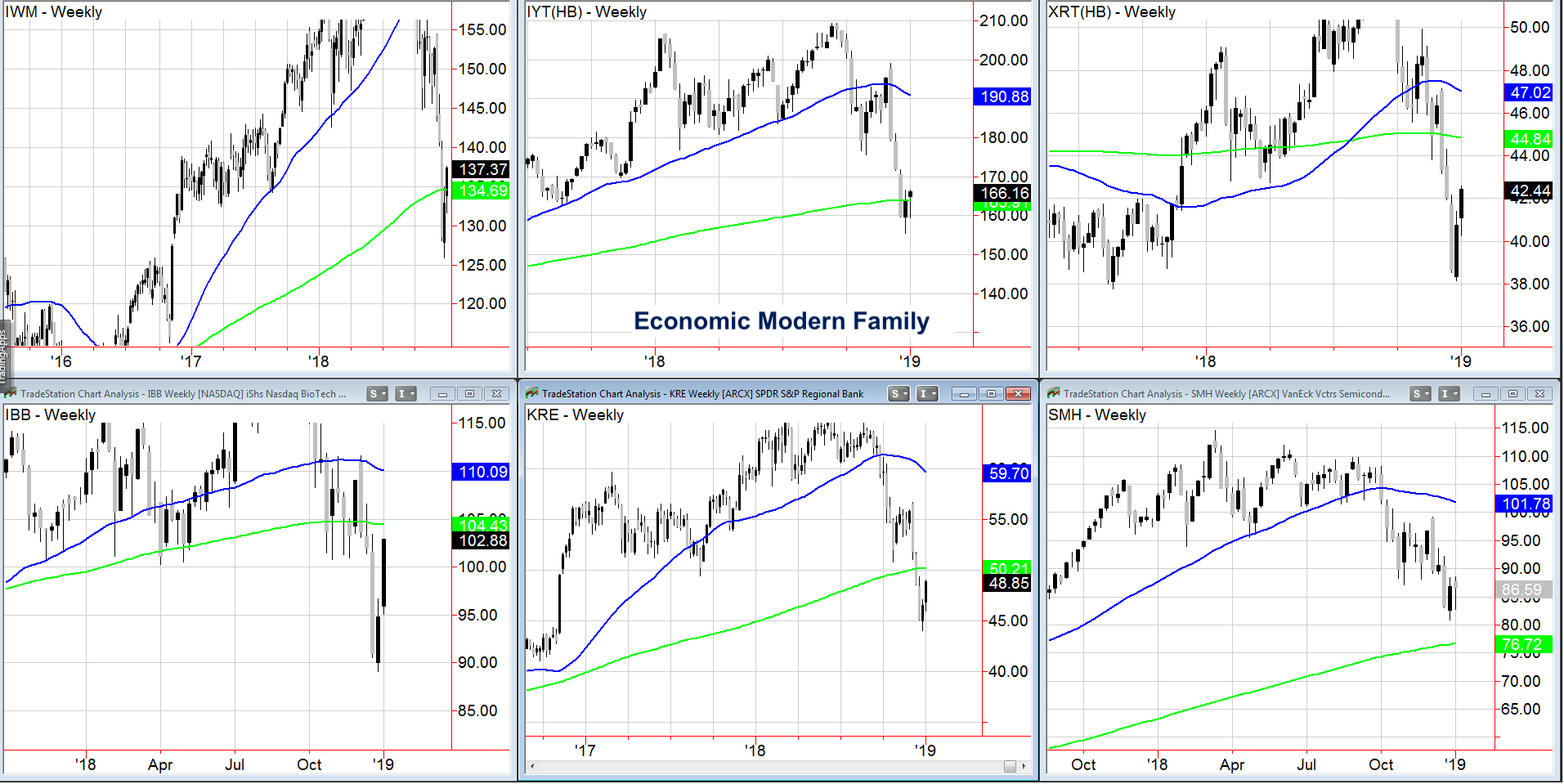 Going from top left to right, we begin with the Russell 2000 (IWM). As mentioned on January 2nd, IWM did indeed clear the 200-week moving average to close well above 134.65.
IYT also closed well above its 200-WMA. That tells me the capitualtion from December 26th's reversal day is still in play. Both IWM and IYT are in weekly Caution phases. They will need to close above those levels again this coming week to confirm.
So there's that.
As far as the other sectors, only Semiconductors (NYSEARCA: SMH) held the 200-WMA during the recent crash. Significant? It suggests that tech will be a good place to keep eyes this week.
A move over 88.40 or the high of the last week in December, is a positive. While a move below 80.71 most likely means SMH will visit 76.75, the 200-WMA.
As for the rest of the Family, the Retail Sector (XRT), Regional Banks (KRE) and Biotechnology (IBB) have yet to come close, let alone clear, their 200-WMAs.
Interesting to note my comments on XRT, "I remember in 2017 talking about a double bottom at 38.00 (from 2016). Last week's low 38.10. Maybe triple bottoms. Now, if it holds over 40, could see 44.00."
The 200-WMA is at 44.84. If it fails to clear that level, could be a sign that this rally is peaking.
Of course, there are other instruments that influence the market. I have covered rates, the U.S. dollar and oil as three major influencers.
Oil through USO, must hold 10.00.
Interest rates, we still believe, have bottomed. If you want to see a classic case of a rally to the 200-WMA resistance and failure, look no further than TLTs.
A move in TLTs under 121.50, should seal its fate.
Should the dollar through DXY fail 95.50, especially on a weekly basis, expect more downside, which will be dangerous for the market while good for raw materials.
Additionally, as "one man's trash is another man's treasure," works well in trading, there are typically other investments to trade outside of the Modern Family and the three influencers.
We will continue to watch the Family, the influencers, stocks that are outperforming, and commodites, most of which are still well undervalued.
Stock Market ETFs Key Trading Levels:
S&P 500 (SPY)  – 245 pivotal area. Over 251.62 could see more upside to 255.
Russell 2000 (IWM) – 135 now support which could lead us to 138.70 and then 140
Dow Jones Industrials (DIA) – 230 pivotal area. Needs to clear 235
Nasdaq (QQQ) – 155 now pivotal support. Then 151.50. Over 155 could see 160
KRE (Regional Banks) – 46.20 support. Over 50.20 it gets interesting
SMH (Semiconductors) – Must hold 85.00. Over 88.40 can see move back to 91-92.00
IYT (Transportation) – 164 now the underlying and important support. Possible rally to 170-171.50
IBB (Biotechnology) – 100 now pivotal support. 103 is the 50 DMA resistance it ran to on Friday. Now 100 must hold and 103 must clear
XRT (Retail) – 44.84 the 200-week MA resistance. 40 best underlying support
Twitter:  @marketminute
The authors may have a position in the mentioned securities at the time of publication. Any opinions expressed herein are solely those of the author, and do not in any way represent the views or opinions of any other person or entity.