The S&P 500 has officially gone over a month without back-to-back winning days.
We saw the same thing earlier this year, but overall this type of action is extremely rare. And perhaps it's indicative of Mr. Market making up his mind.
Here is a chart of the S&P 500 going back to 1970 that shows all the other times we saw this rare phenomenon. In the upper left hand corner, there's a table that shows the occurrences and the length of the streaks.
S&P 500 Chart – Days Without Back to Back Gains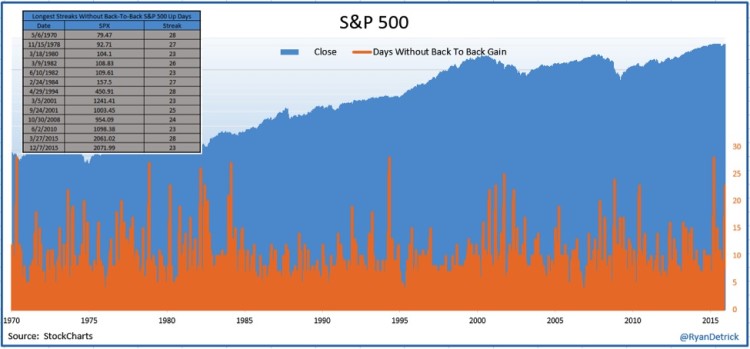 Here's another view of the same data. Just simply eyeballing this, it is clear that these events tend to happen in weak equity markets. The good news is they can sometimes happen near the end of weak periods on the S&P 500.
But the next question is: How does this affect S&P 500 returns?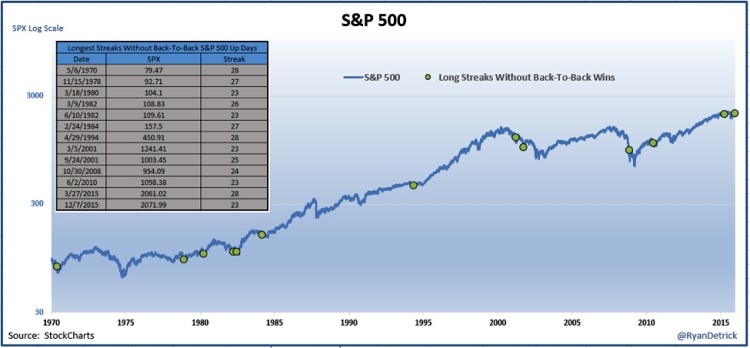 Once we finally see a back-to-back win though, what happens?
Looking at the 12 other streaks that made it to at least 23 days, here is a look at S&P 500 returns (performance) after the streak ended. Negative a month out would suggest the bears remain in control in the near-term here, but going out longer shows things get more normal.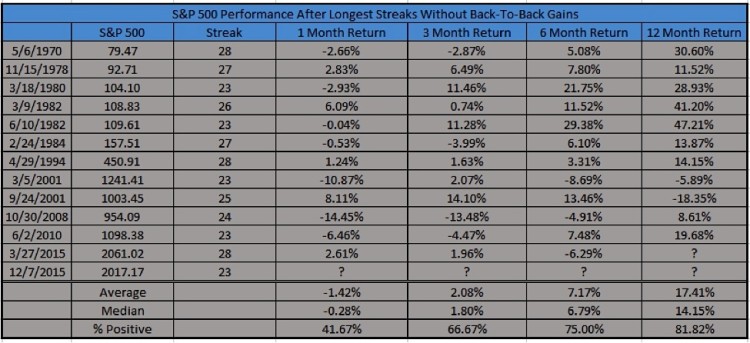 Lastly, over the past 23 days the S&P 500 is down only 1.55%. Looking at the other streaks that went 23 days without back-to-back wins, this is the second strongest ever. Interestingly, the streak earlier this year was the strongest and only time to sport a gain over those 23 days.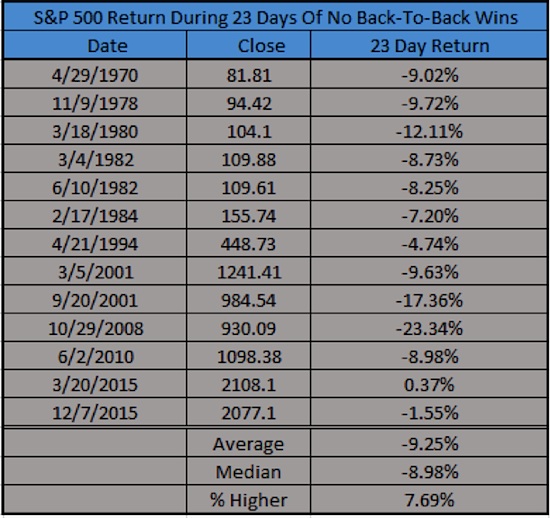 Given that the average S&P 500 returns for this type of streak is down 9.25%, perhaps being down less than two percent the past 23 days is a subtle sign of strength? I think it could be.
Thanks for reading.
Further Reading from Ryan:  "Will The US Dollar Top With A Fed Rate Hike?"
Twitter: @RyanDetrick
Any opinions expressed herein are solely those of the author, and do not in any way represent the views or opinions of any other person or entity.