The stock market rose last week, with the S&P 500 (SPX) up 65 points to 2596, an increase of 2.6%.
US-China trade talks progressed and the Fed continued its more subdued tone, lifting stocks as volatility ticked lower.
Our projection the week ahead is for stocks to begin to roll over again at some point over the coming week or so.
Our approach to technical analysis uses market cycles to project price action.
There will be plenty of news events this week that could potentially move the markets, including bank earnings as well as key economic data.
While there may be a bit more to the rally, risks are rising.
S&P 500 Market Cycle Outlook for the Week of January 14, 2019:
The stock market continued its rebound last week, bringing its gains since the December low to over 10%, as I pointed out in the latest Market Week show. As well, volatility continued to ease, with the CBOE Volatility Index (VIX) shaving off another 3 points to end the week at nearly 18.
In the first half of the week, the US and China made progress in their trade talks, which were extended from two to three days. With the talks involving staff rather than leadership, they focused on issues such as technology transfers and intellectual property.
Given this, Treasury Secretary Steven Mnuchin announced that, "The current intent is that Vice Premier Liu He will visit us later in the month." With leadership involved, this may set up an effort to achieve more substantial outcomes.
Meanwhile, Fed Chair Jerome Powell emphasized patience with regard to future rate hikes. This was confirmed by the most recent meeting minutes, which showed that members believed they "could afford to be patient" with inflation still tame.
However, Powell projected that the Fed's balance sheet, "will be substantially smaller than it is now." While it was not clear what he meant by "substantially" he did say that it would be bigger than it was before the financial crisis.
Economic indicators continued to weaken, with new job openings slipping from 7.1 to 6.9 million, below the average analyst projection of 7.05 million. As well, the monthly survey of non-manufacturing purchasing managers also slipped and missed expectations.
Yet Wall Street is as bullish as ever, according to Mish Shedlock. Equity analysts are projecting stock market gains between 6% and 30% for the year. Our view is less optimistic, as we expressed in the most recent Big Picture Analysis of the US Stock Market. Become a Level 1 askSlim member to read the report.
S&P 500 (SPX) Daily Chart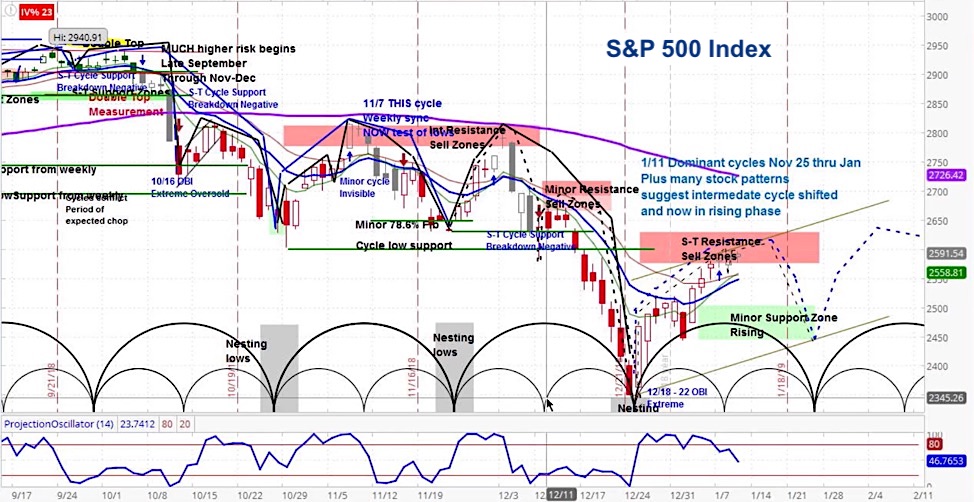 Our forecast is for the S&P 500 to begin rolling over with a target of 2445-2500 over the coming week and a half. We see increasing risk as we approach the declining phase of the 22 day cycle. Beyond that, we see stocks bouncing again, with the possibility of the cycle high exceeding that of the current cycle.
For more from Slim, or to learn about cycle analysis, check out the askSlim Market Week show every Friday on our YouTube channel.
Twitter:  @askslim
Any opinions expressed herein are solely those of the author, and do not in any way represent the views or opinions of any other person or entity.