We've seen US equities largely hold onto early gains Wednesday with the S&P 500 and Dow Jones Industrial Average trading back up to new all-time highs.
Meanwhile, the NASDAQ Composite is still below its all-time highs made back on August 29.
S&P 500 Technical Trading Update
The S&P 500 made marginal new highs this morning.  Looking at the chart below, it has a bullish technical structure.
However, counter-trend sells based on TD COMBO with Sequential are fast approaching at just 3 days away. Thus this is not as bullish of a move given the approaching signals (which have caused markets to stall in the past).  For now, it seems like Friday/Monday is important.
In the meantime, we have to trust the move until/unless we see prices get under 2917.
S&P 500 Futures Chart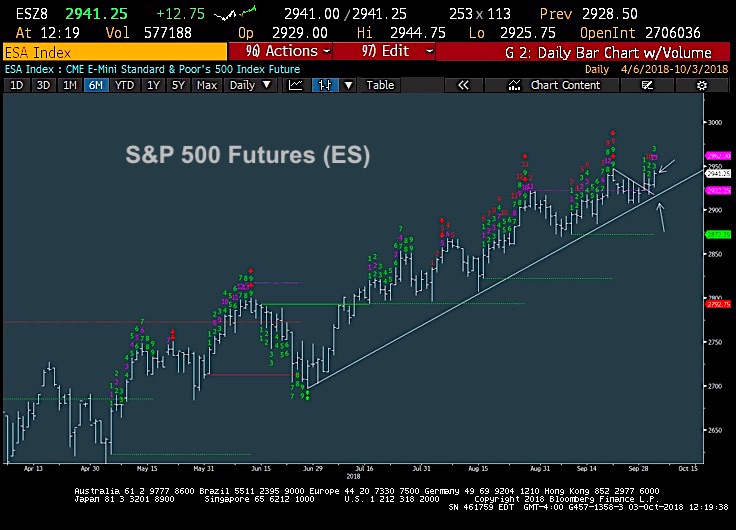 Key market notes for today:
Financials are trying to bounce, having gained some momentum during the late morning hours of today's session (currently up 1.4% for the day). This group has been under relentless pressure over the last couple weeks, so its tough to make too much of today's move… but it is helping the stock market to rally.  Market breadth is only higher by 3/2 and 4 sectors are down on the day:  Utes, Staples, Real estate and Materials.
Importantly, we've seen Treasury yields move back up to new highs for the year on 10 and 30 year bond yields. Similar to the S&P 500 (but a few days ahead), the 10-year yield (TNX) is showing a counter-trend SELL signal. This may contain the rally in yields.
For now, its right to trust this move in yields until/unless it reverses. Just be aware of the signals and potential for a reversal into next week.
Twitter:  @MarkNewtonCMT
Author has positions in mentioned securities at the time of publication. Any opinions expressed herein are solely those of the author, and do not in any way represent the views or opinions of any other person or entity.