S&P 500 Futures Trading Outlook (1-2 Days):  Cautious
No meaningful damage on Monday, but yet definite evidence of distribution. This looks like the start of a near-term topping process for this recent 2 week rally.
I am looking to hedge into the 2810 level on the S&P 500 (NYSEARCA:SPY), marking this area as important resistance / slow down area. Movement under 2793 would be something to consider following to the downside.
Near-term, it's right to be selective.
A move below the aforementioned 2793 likely leads to a selloff down to 2770, the larger line in the sand.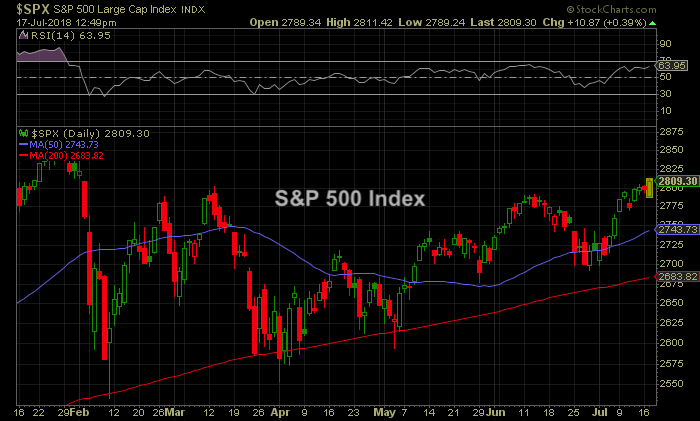 Broad Stock Market Commentary
Despite a much needed bounce in Financials, neither Tech, nor Industrials were able to join suit, and both fell on the day, along with most other sectors, with 8 out of 11 sectors finishing down on the day with breadth of roughly 2/1 negative.
The after-hours plunge by NFLX to the tune of 60 points wasn't too unusual for any that have studied this stock's history during earnings in July or January for that matter, but did result in a late selloff in NASDAQ futures back under mid-June highs. Minimal damage occurred by the close, however there was significant damage in Transportation stocks and Energy and most Tech stocks also failed to pick up the slack.
Overall, this looks like a market that's quite tired and after a decent start to the 3rd quarter, many charts still appear to be under pressure when looking at Industrials, Financials, Transportation, while the overbought Tech stocks have all begun to wane.  Unfortunately this is happening during a time when quite a few technical factors are pointing for stocks to make at least a minor correction into late month.
If you have an interest in seeing timely intra-day market updates on my private twitter feed, please follow @NewtonAdvisors.  Also, feel free to send me an email at info@newtonadvisor.com regarding how my Technical work can add alpha to your portfolio management process.
Twitter:  @MarkNewtonCMT
Author has positions in mentioned securities at the time of publication. Any opinions expressed herein are solely those of the author, and do not in any way represent the views or opinions of any other person or entity.