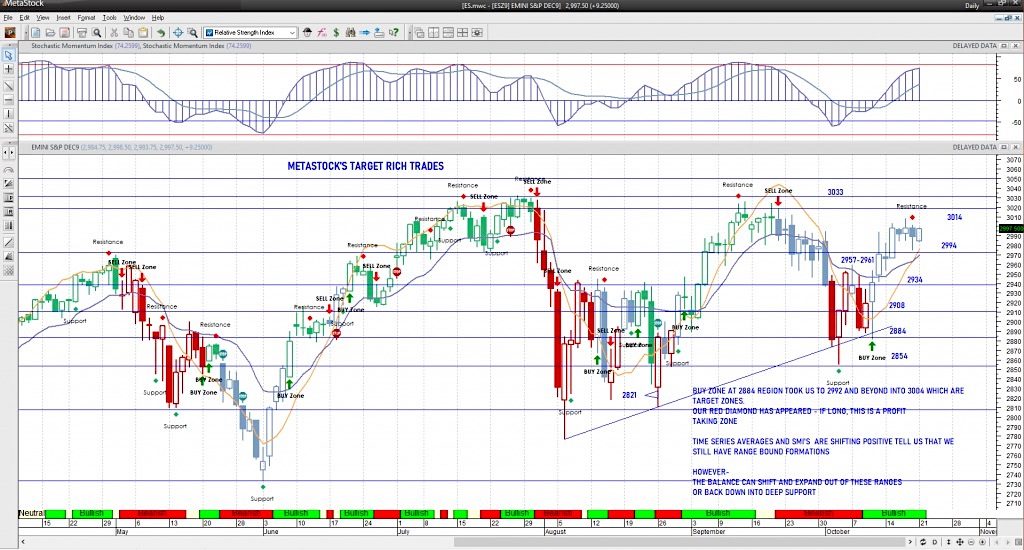 S&P 500 Index Futures Trading Chart – October 21
MARKET COMMENTARY
As we begin the fourth week of October and corporate earnings continue, we can see traders are waiting in a range on S&P 500 Index futures.
I see that the Nasdaq futures and Dow Jones Industrials futures have slipped below the ranges from Friday while S&P 500 futures hold within Friday's range.
The overall range continues to tighten – this is a warning signal to me that a break is likely ahead in the near term. Neutral to bullish formations remain.
WEEKLY PRICE ACTION
Neutral to bullish action on S&P 500 futures with a hold over 2982 keeping the index a bit more bullish, with reduced to slightly positive momentum present. Indices are at higher edges of the volatility range noted-just shy of break out areas – particularly for the S&P 500 futures but not so much for the Nasdaq and Dow Industrials futures which may be in need of a bit of fading.
Pullbacks ought to be buying regions but news algorithms make the ranges wide so use caution jumping in – particularly if S&P 500 futures fade through 2982. 
COMMODITY & CURRENCY WATCH
Gold prices continue for yet another week to recapture 1500 and failing as we continue in this flag pattern. Use caution with size – there is significant risk in the chart-in both directions – especially as we compress prices in the broad indices. The US dollar is at a major support region and failing – it's been a while since this has happened (as it revisits the low of Friday). Another failure on any bounce and we will lose the channel we have been in for well over a year. WTI sits below 54 in a bounce trying to hold as traders try to build the base here. Traders have been very clear on how important it is to hold this 52-53 levels as support.
TRADING VIEW & ACTION PLAN
Buyers are holding the key break levels above 2994 on S&P 500 futures. Be patient and wait for your setups. Mixed undercurrents exist but bullish motion is building within this upper range. Realize that we could bounce higher than anticipated and fade deeper than anticipated before returning to the range. Follow the trend in the shorter time frames and watch the price action.
The theme of motion is NEGATIVE AS LONG AS WE HOLD BELOW 2981ish today (with bounces failing and deep pullbacks holding)-and POSITIVE AS LONG AS WE HOLD ABOVE 2997ish today (with big spikes fading back into congestion) – choppy inside the range. Do what's working and watch for weakness of trend. Please log in for the definitive levels of engagement today.
Learn more about my services over at The Trading Book site.
Twitter: @AnneMarieTrades
The author trades stock market futures every day and may have a position in mentioned securities at the time of publication. Any opinions expressed herein are solely those of the author, and do not in any way represent the views or opinions of any other person or entity.