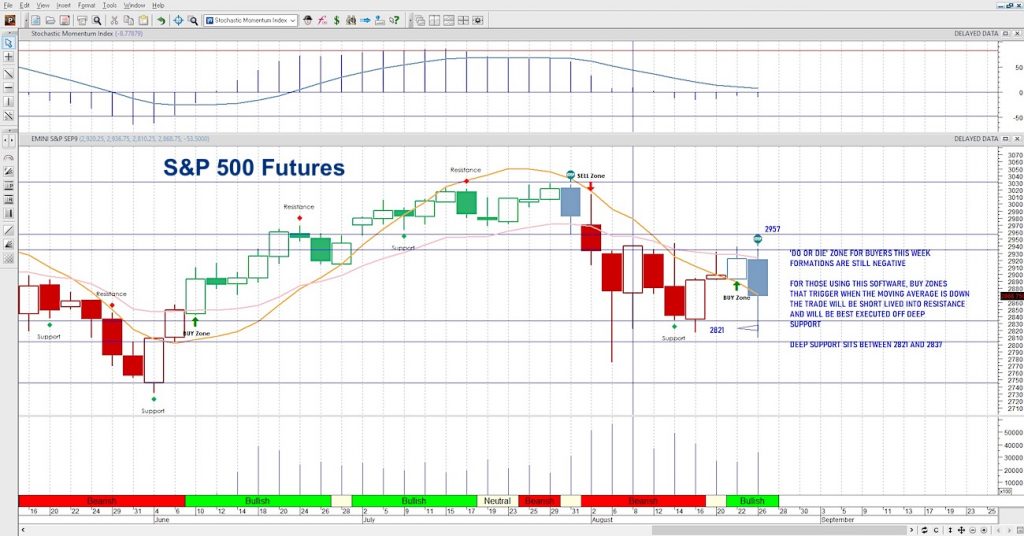 S&P 500 Futures Trading Chart – August 26
MARKET COMMENTARY
In a sharp and surprising move, the S&P 500 Index INDEXSP: .INX sold off dramatically on Friday, led by knee jerk actions and reactions from traders and systems that follow momentum sending us in a cascade of price lower.
Our Metastock trading system, triggered a long at the close that saw a drawdown that evaporated overnight in the climb upward. Futures have gone from down big to positive…
The takeaway? Volatile markets are here and likely to stay. Be selective with your choices and take long action into resistance.
THE PRICE ACTION
Strong move down in the process of reversal in the overnight. The fat line in the sand for resistance remains the region between 2937-2941 for upside pressure (very doubtful we see that today), but just below that we see the range of 2874 to 2897. This is where I suspect most sellers sit. To be sure, sellers are in control as the memories of sharp December selloffs and deep market dips leave traders skittish and hesitant to stay long.
COMMODITY & CURRENCY WATCH
Gold exploded higher and tested the 1564 region overnight – where our major target sits in the new cycle. The next upside target is over $100 away. Even as markets bounce, the yellow metal holds steady.
Currency risks are still in play. The USD index now holds just below 98 after a monster move down on Friday followed by a bounce. That said, the technical divergence noted could still give us a steep fade creating buying opportunities. WTI is still solidly range bound where buyers are more comfortable at deep support and sellers at higher levels above 56.8- 57.
INTRADAY MARKET VIEW
POSSIBLE BREAKDOWN -Ranges broke Friday and we now hold levels between 2809 and 2912- almost 100 points of NOISE. The mini Nasdaq is battling the range between 7305 and 7620 – big ranges across the board.  The mini DOW is in wide space between 25230 and 26260 – 1000 points of range. Bearish strength is building but we still hold lows across the board from four weeks ago.
Continue to be careful here on the edges of your charts as we could accelerate out and continue if traders get too heavy on the edges (case in point, Friday), after which, you'll have to reverse your position. For now, they remain reversal regions.
OVERALL WIDE ANGLE MARKET VIEW
Deep support bounces engage –shifting the balance of the traders into a scramble to maintain support. Sellers have the edge for now after the Friday move. Weekly charts continue to show flattening momentum and some more downside weakness that that is confirming but still close to major supports. Buyers are still showing up at deep value areas.
Twitter: @AnneMarieTrades
The author trades stock market futures every day and may have a position in mentioned securities at the time of publication. Any opinions expressed herein are solely those of the author, and do not in any way represent the views or opinions of any other person or entity.