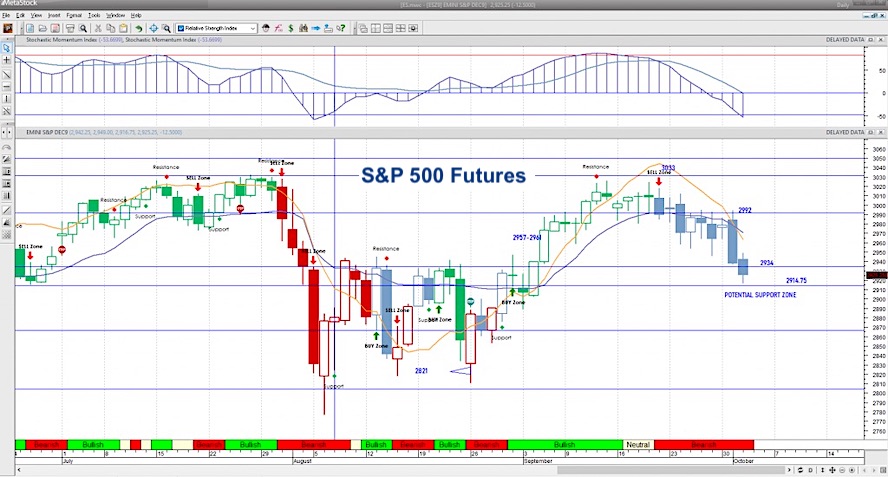 S&P 500 e-mini futures trading chart with analysis
MARKET COMMENTARY
We are seeing the sharp fade from yesterday on S&P 500 futures continue into Wednesday morning with support edges at the heat of the battle near 2920- the lower support line.
Volume in the market remains lighter, suggesting some other liquidity issues- which means we are likely still rangebound but with a bit more bearish risk.
Edges of support are in play today so we may see price reversal unless the psyche of traders has been rattled. Market volatility remains a concern.
WEEKLY PRICE ACTION
Sellers broke support levels on S&P 500 futures at 2946 – and forced price into 2920 – another key level below. Bounce action is likely here but a clear lower high (meaning we fail to breach and hold 2974 will confirm movement is not bullish in the short term. Above that mark and we'll head to the higher resistance levels near 2991.
Neutral to negative action, and flattening to negative momentum are now present. Bigger picture- all the watched indices are still in breakout formations though looking the most vulnerable I have seen it in some time. This makes for a messy patch of trading.
The line in the sand today is 2954.75 – above this zone, buyers will be more brave. Sellers hold the upper hand below 2942 with the key support at 2921.
COMMODITY & CURRENCY WATCH
Gold prices bounced sharply off 1468. Prices are caught between 1460-1500 The region near 1504 is still primary resistance. Deep pullbacks remain active buy zones – short positioning will require careful attention. The US dollar is holding above 99 and should grind to 100, with deep dips finding buyers. WTI has fallen back into below the 54 support area as fears of global slowing continue. Failure to close the week above 55 will be quite bearish but we are sitting just above another defined support zone near 53.40.
TRADING VIEW & ACTION PLAN
Buyers are struggling near 2920. Pullbacks are still the best places to engage if risk exposure is your primary concern and you are considering long action. Trade the edges of these formations and realize that we could bounce higher than anticipated and fade deeper than anticipated on the monthly close and quarterly close before returning to the range. Follow the trend in the shorter time frames and watch the price action.
The theme of motion is NEGATIVE AS LONG AS WE HOLD BELOW 2920ish today – and POSITIVE AS LONG AS WE HOLD ABOVE 2954ish today. Do what's working and watch for weakness of trend. Please log in for the definitive levels of engagement today.
METASTOCK SWING SHORT – in a wait state – will engage at the bounce into 2996 again with a 12 point stop; if we come into the stop region (within 2 points – I will add to the position) – missed my short entry by 2 points … grimace… Going to give the chart a day to settle to re-engage.
Twitter: @AnneMarieTrades
The author trades stock market futures every day and may have a position in mentioned securities at the time of publication. Any opinions expressed herein are solely those of the author, and do not in any way represent the views or opinions of any other person or entity.