In 1881, upon entering the Baltimore and Potomac Railroad station, Garfiled was shot at point-blank range.
He was president for a very short time.
The Garfield Monument sits on the edge of the Totlec Gorge between Alamosa and Chama in New Mexico.
It was erected by members of the National Association of General Passenger and Ticket Agents.
We took the train ride over the weekend, hence the photo.
I was struck by what seemed to me, a somewhat random location. Plus, it's right near a major gorge.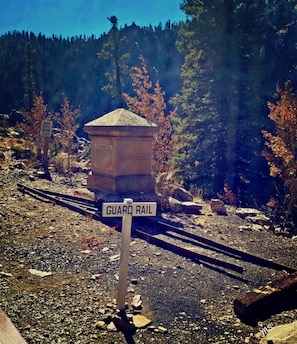 So naturally I got to thinking about the convergence of this monument that remembers a very short-lived President and its relatively obscure location.
From there, I thought about today's market rally.
Is it equally short-lived and are prices in certain instruments in relatively obscure locations?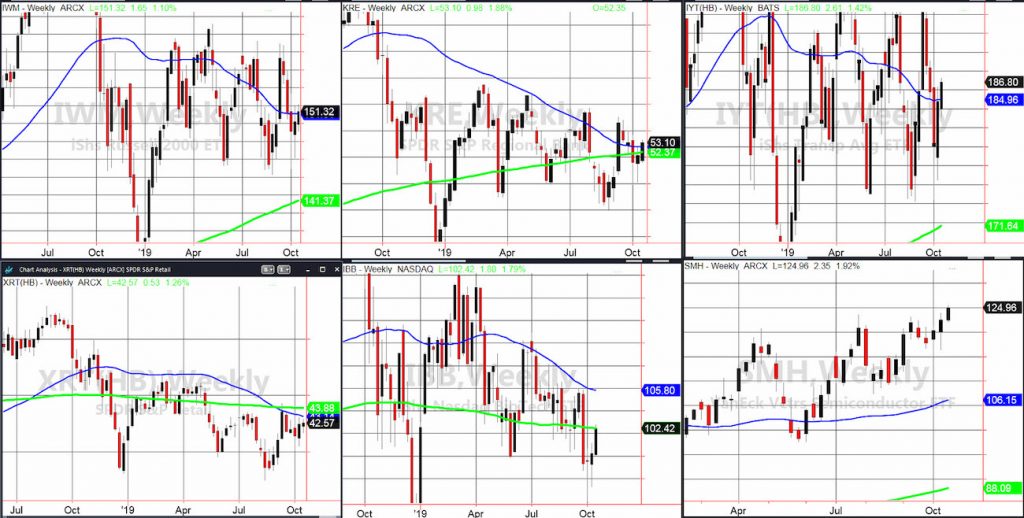 The charts of the Economic Modern Family are on a weekly timeframe.
Coming into today, all the Family were trading under their 50-WMAs and in some cases under the 2000-WMAs except for Semiconductors.
We called the Russell 2000 IWM's 50-WMA a perfect inflection point.
At the close of today, IWM teetered on that line.
Regional Banks KRE cleared both the 50 and 200-WMAs after big banks showed some solid earnings.
Transportation IYT strongly cleared the 50-WMA.
Retail XRT got closer to the 50-WMA but was unable to clear that level.
Biotechnology IBB, perfectly touched the 200-WMA and closed below it.
Meanwhile, expectedly, Semiconductors SMH, made a new all-time high.
Where does that leave the market?
Honestly, still mixed.
We have been here so many times before. The NASDAQ and Semiconductor stocks lead, and the sentiment changes to extremely bullish.
However, the disparity between the performance of the S&P 500 or the QQQs and the Russell 2000 widens.
Is today's rally worthy of a monument?
Garfield's presidency was short-lived and ended in tragedy.
What we need to see to avoid the same fate for the market is today's gains to hold, especially in IWM and IYT.
Then, we need to see XRT particularly, continue its gains to reflect consumer confidence.
At this point, the Modern Family charts show prices in random locations in that they have yet to show they are in synch.
Therefore, today was fun-and the strong get stronger. But we need to root for the weak. Then, we can build that monument for the Economic Modern Family.
And hopefully, it will not sit dangerously close to a gorge.
S&P 500 (SPY) 296 pivotal support. 300 resistance to clear Subscribers: Positive pivots in all
Russell 2000 (IWM) 150.50 the 50-DMA pivotal support and 152.63 resistance.
Dow Jones Industrials (DIA) 270 now must hold
Nasdaq (QQQ) 193.30 pivotal for Wednesday. Support at 190.50
KRE (Regional Banks) 52.80 pivotal support if this is to hold.
SMH (Semiconductors) 124 now support after new all-time highs.
IYT (Transportation) 185 now pivotal support to hold if good.
IBB (Biotechnology) 100 pivotal 102.50 resistance (where the MAs sit).
XRT (Retail) 43-44 huge resistance. 41.50 support.
Twitter: @marketminute
The author may have a position in the mentioned securities at the time of publication. Any opinions expressed herein are solely those of the author, and do not in any way represent the views or opinions of any other person or entity.