The major US stock market indices pushed up and made new all-time highs Monday, with market breadth coming in better than what we've seen in recent weeks.
Technology and small cap stocks led the market, and the daily charts of major Tech indices still show the possibility of further near-term strength this week.
It's thought, however, that this equity strength is not unlike the rally into July which briefly broke uptrend line support and caused some breadth divergence from mid-month before making a final push into late July.
Note that momentum indicators are noticeably lower, and should be a factor as stocks finish this month solidly in the green. 
For now, despite the breadth erosion from early November, US stock indices have not really paid attention to any of this and prices have continued higher.
Overall, it will be tough to fade Equities into thanksgiving with lesser volume, but it's thought that the next couple days should bring about the negative momentum divergence that IS truly important and will be something to respect.
Bottom line, as told in our Weekly report from yesterday morning, it's right to stick with this move until some evidence of deterioration occurs, which could take the form of a move down under 3090. Until then, prices can make even further upward progress.
The main development in the last 48 hours however, does not concern equities but the US Dollar.
The greenback has managed to push higher to the highest levels since mid-October with weakness out of both the Euro and also Japanese Yen. This looks likely to continue into early December and could be a bearish factor for both precious metals and EM.
Gold Chart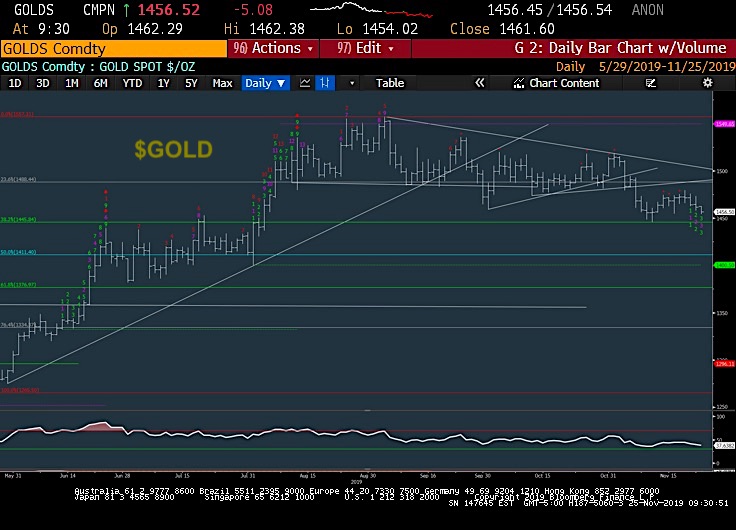 Gold and Silver both look to trend lower in the next few weeks, specifically given a bullish near-term trend in the Dollar, which seems to have hurt the Metals along with EM. Overall, Gold broke down last month again after minor stabilization and now should pullback to 1425, or 1400-1, either one proving important. On any move under 1400, Gold should be covered, expecting this to be long and outperform. Thus the weakness is near-term only.
If you have an interest in seeing timely intra-day market updates on my private twitter feed, please follow @NewtonAdvisors. Also, feel free to send me an email at info@newtonadvisor.com regarding how my Technical work can add alpha to your portfolio management process.
Twitter: @MarkNewtonCMT
Author has positions in mentioned securities at the time of publication. Any opinions expressed herein are solely those of the author, and do not in any way represent the views or opinions of any other person or entity.