I was on Fox Business on Tuesday and had a good market discussion discussing everything from the Fed to Corporate earnings to the Financials sector with hosts Liz Claman and David Asman, and guests Larry Shover and John Buckingham.
I've been on a few times with Larry and I'm a big fan. He kicked things of pointing out the economic data still isn't perfect and the Fed will act very slowly. Looking at what they said the following day, I'd have to say Larry was spot on as usual.
I was up next. Liz asked me about the Wall Street Journal's John Hilsenrath's comments on why the Fed could keep rates low for a considerable time. The market quickly popped on that and that was cited as the reason for the day's strength. She asked me if that was a sign of how desperate the market is to see cheap money and low rates. My take is that is just an excuse. Bears keep picking reasons for why we are rallying, as if we should be dropping. The reality is we're in a bull market and things look good.
One major positive is people might sound bullish in sentiment polls, but what they are doing with their money is a much different picture. For instance, we've seen five straight months of domestic equity mutual fund outflows. Last time we saw that was late 2012 before a huge 2013 rally.
Domestic Equity Flows
Also every little dip is met with so much worry and fear. After being down last week after five straight up weeks, everyone was all beared up over the weekend thinking the big drop was finally coming.  Then we rally. Been seeing this play out for years now.
I also love the fact that earnings are making new all-time highs and show no sign of rolling over. Higher trending earnings are one of the most bullish drivers for stocks. You can talk about the Fed and manipulation all you want, this picture continues to look great and earnings are expected to stay strong for at least the next year.
Annual Earnings vs S&P 500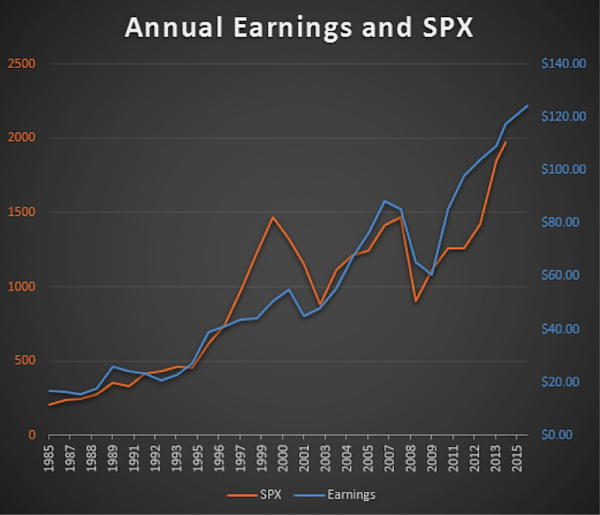 Earnings data courtesy of Brian Gilmartin at Trinity Asset Management
My next question came from David and he asked me why it was bullish for the S&P 500 (SPX) to be up five straight months. I sent them this study in the notes to the producer and they must have liked it, as he asked me about it.
You might think the SPX up five months in a row is bearish, as we're up 'too far, too fast.' Actually that isn't the case, as the returns after being up five straight months are very strong. This has happened 22 times since 1950 and a year later the SPX was up an incredible 21 times. That one 'loser' was down less than a percent also. Momentum is a wonderful thing and to me we still have it fully in play.
S&P 500 Returns After Being Up 5 Months In A Row
Lastly, they always ask for a favorite sector and I named financials. Financials held up very well lately and many of the charts look awesome. The two days after this appearance financials went nuts, with many breaking out to new highs, so gotta like that.
Higher rates tend to be good for banks and that could be a much bigger driver over time should rates continue to move higher. Also banks are still nowhere near their previous peaks from 2007. After lagging for years, I think they could finally begin to play catch-up and be relative strength leaders for a long time here.
XLF Daily Chart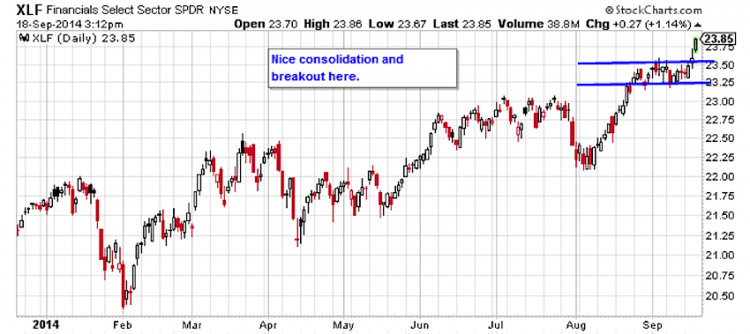 You can watch the full eight minute video here and see what the other questions were to the other guests. Also you can take a look at my new white tie, I think it is pretty nice.
No position in any of the mentioned securities at the time of publication. Any opinions expressed herein are solely those of the author, and do not in any way represent the views or opinions of any other person or entity.