A couple weeks back, I wrote a post over on my site Bart's Charts looking at Kinder Morgan stock (KMI) and some potential downside price targets. The stock has been a mess but I was curious to see how much lower it might go (according to math and geometry).
Remember, I'm a pattern recognition trader, so I don't tend to know much at all about the fundamentals of a company or asset.
Long story short, I identified 14.21 as a potential downside price target for shares of Kinder Morgan.
And a couple weeks later the low is 14.22.  This was hit yesterday and the stock has bounced a bit from there. If this bottom holds for a while, it may lead to a strong rally for Kinder Morgan stock. Or at a minimum, it will present a decent trading setup with a defined risk level (i.e. stop).
If the pattern holds, then I'll be looking for a corrective rally higher comprised of 3 waves up.
Here's the chart that I shared in that prior post:
Kinder Morgan Stock Chart (KMI) –  from December 7 post
And now here's the chart showing the low hit yesterday and subsequent reversal and rally higher. The key question now is: Will the reversal stick… and can a tradable rally of substance develop for Kinder Morgan stock?
Kinder Morgan 5min Stock Chart (KMI) –  pattern complete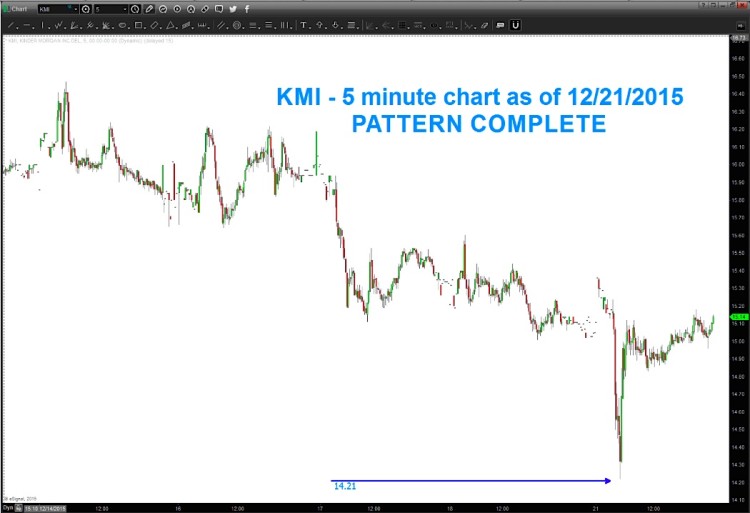 Funny how that works?  I really have little idea about the fundamentals of the company (and have no interest to know)… but I do know price patterns. This one appears to be working, but time will tell.  At a minimum, price respected this level to a "T" yesterday.  Some patterns work, while others fail so remember to always use a stop when trading.
Thanks for reading.
Twitter:  @BartsCharts
Author does not have a position in mentioned securities at the time of publication. Any opinions expressed herein are solely those of the author, and do not in any way represent the views or opinions of any other person or entity.