While the U.S. markets continue to figure out its own identify, whether it's meant to spend the next few months as a bear or a bull there are some interesting chart setups taking place in a couple international markets. Today I'm going to take a look at one of those foreign markets: Japan. And we'll keep our focus on the Japanese ETF, the iShares Japan (EWJ).
Below we have a one year daily chart of the Japanese ETF. After breaking out above prior resistance earlier year (around $12.20), the Japanese ETF made a nice run higher (a run covering another 10% higher to its YTD high). And we've also seen continued pushes in momentum into 'overbought' territory, which as I've said previously on my blog – this is typically a good thing. It shows a healthy sign of buying. It is now up a cool 14.1 percent (through yesterday's close).
However, a possible double top pattern has been created as the iShares Japan failed in its attempt to take out its April high last month. While making a run back towards its highs ($13.30) the Relative Strength Index (RSI) put in a lower high, a sign that momentum was not confirming the advance in price. This is also a sign that japanese stocks (via the ETF) may have begun to weaken.
Since then price has fallen back to its prior low around $12.80 and may head even lower if additional selling pressure mounts. I'll be watching the Japanese ETF to see if it can find support at its 100-day Moving Average (around 12.66). If it doesn't stabilize there, then price may find itself back at the level that had been resistance in 2014 ($12.20). On the flip side, if price is able to hold above $12.80 then we may see a continuation of the current trend and another attempt to set a new high. As a price follower, I'm happy to let price lead the way.
iShares Japan ETF (EWJ) Chart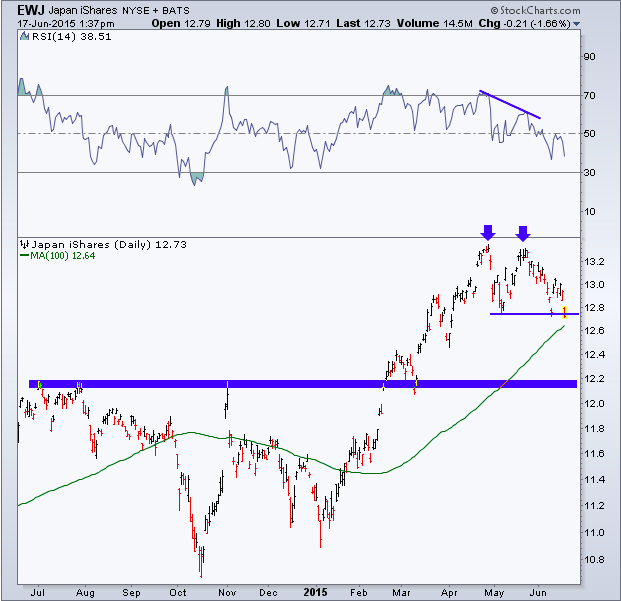 The information contained in this article should not be construed as investment advice, research, or an offer to buy or sell securities. Everything written here is meant for educational and entertainment purposes only. I or my affiliates may hold positions in securities mentioned.
Twitter: @AndrewThrasher
Read more from Andrew on his Blog.
Any opinions expressed herein are solely those of the author, and do not in any way represent the views or opinions of any other person or entity.