When a security or asset class gets beaten down, sentiment tends to go in the toilet as well. And this generally supports and leads to a trend of lower prices. But as price reaches the extremes, it becomes susceptible to short covering rallies… and ultimately a bottom when time & price align. Although I'm not calling for the latter just yet, it does appear that the Gold Miners ETF (GDX) fit the description.
Time and price may not be ready to call a major bottom in Gold Miners just yet, but GDX has started to show some signs that a short-term rally may be nearing. My good friend and fellow SIM contributor Chris Kimble noted earlier today that the Gold Miners are bouncing off of a key GDX Fibonacci support level. As well, GDX is starting to show some volatile price swings that may be indicating some uncertainty from shorts over the near term. Case in point:  GDX was up over 8 percent on Friday, down over 6 percent on Monday, and up over 4 percent today. Yeah, buckle your seat belt.
Looking at the weekly chart below, it's hard to even see the price volatility (that is how far price has fallen). However, two things stand out: 1) GDX recorded a weekly 9 buy set up two weeks ago (on the big red bar).  2)  RSI dipped well below 30 which could mark a near-term bottom (or setup for an RSI divergence on a retest).
GDX Weekly Chart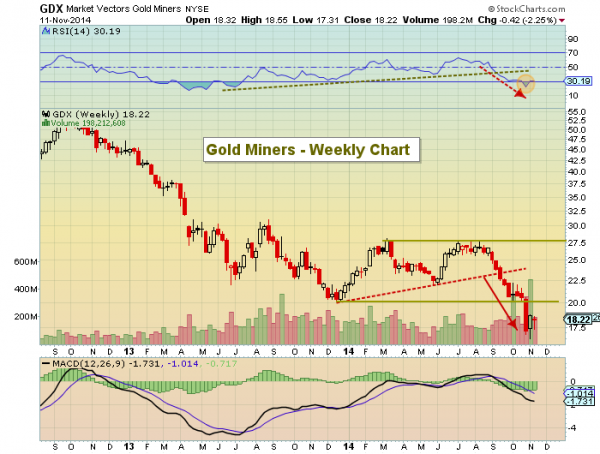 Looking at the daily chart, the Gold Miners may be targeting the 19.50 to 21.00.  This is a wide range, but it marks several hurdles: 1) downtrend resistance and October 30 open gap (19.45-19.64). 2)  Breakdown below $20. 3) The 50 day moving average.
Needless to say, GDX has plenty to prove. But with Gold (GLD) prices bouncing off 4 year lows and the US Dollar sitting at important resistance, the opportunity is there for bulls to push the Gold Miners ETF a bit higher.
GDX Daily Chart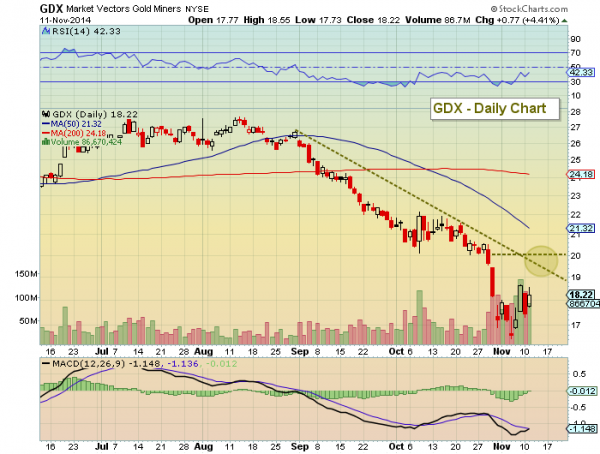 Follow Andrew on Twitter:  @andrewnyquist
No position in any of the mentioned securities at the time of publication. Any opinions expressed herein are solely those of the author, and do not in any way represent the views or opinions of any other person or entity.