By Adam Graham
I have a macro thesis that's driven entirely by the perpetual and rapidly increasing growth rate in global population. I believe that with a long term view (2-3+ years), well run and well positioned businesses in certain natural resource and agriculture industries are a safe bet to return your investment and then some. Within that space I think drinking water and food commodities are the easiest to understand for a typical retail investor like me, while also being less susceptible to global economic growth fluctuations (i.e. aluminum, steel, precious metals, etc).
Agriculture & Fertilizer
Regarding agriculture, consistently escalating population growth will keep demand for commodity foods increasing until judgment day. I made a nice return last year with Teucrium Corn Commodity ETF (CORN), which appreciated >17% between late June and late August due to poor weather and weak harvests in the US and abroad. Corn's versatility, it's a major component in livestock feed, processed food ingredient, sweetener and fuel source in the form of ethanol, ensure continued broad based demand.
As you'd imagine, last year's shortcomings have lead to low supply inventories this year and a completely different play may be in order. The increased price of food, particularly corn, is going to drive a sharp increase in plantings as farmers aim to cash in after a rough Summer of 2011. The industry outlook is for a record US corn crop.  According to the USDA, expected corn plantings are expected to reach 95.9 million acres, YoY growth of roughly 4%, the largest planting since 1937.  Further, Agriculture.com believes 2012 could bring near-record corn yields, after 2 very lean summers.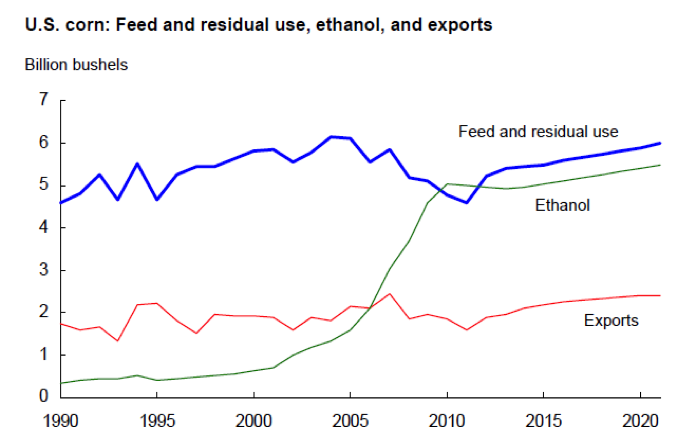 Now increased supply doesn't necessarily bode well for corn prices, but to achieve such optimistic yield projections farmers will likely drive increased demand for plant nutrients…fertilizers. Corn, specifically, is the largest nutrient consumer of the major agriculture crops, accounting for over 40% of the fertilizer applied to US crops, and requires much more Nitrogen as a component than other crops (nitrogen being one of the three primary components in agricultural fertilizer, along with Phosphorus (phosphate) and Potassium (potash)).
With population growth, agricultural land around the world becomes more and more scarce.  As available land shrinks and food demand rises, the importance of maximized yield becomes imperative, ensuring ongoing reliance on and growth for fertilizer producers.  Therefore, I believe owning such companies is a wise long term choice for any investor.
From a short term perspective, I believe this space is equally attractive due to the rosy 2012 USDA planting projections I mentioned above.  Higher projected planting acreage should ensure strong revenue in the 2012 Spring and Summer quarters at a minimum.
Continuing my thinking from above, it would seem that increased corn plantings could be the most significant driver this summer in the fertilizer space. Because corn requires the most fertilizer of the top 3 crops (the others being soybeans and wheat), this suggest to me that corn fertilizer companies stand to profit the most, namely companies focused on Nitrogen production, rather than those concentrated on Phosphates or Potash.
This top-line opportunity would likely be compelling enough for me to zero in on a suitable company, however there is an added enticement which suggests an improvement in margins to go along with stronger revenue numbers.  Namely, the primary cost input to produce Nitrogen fertilizer is Natural Gas.
10 YEAR NATURAL GAS INDEX CHART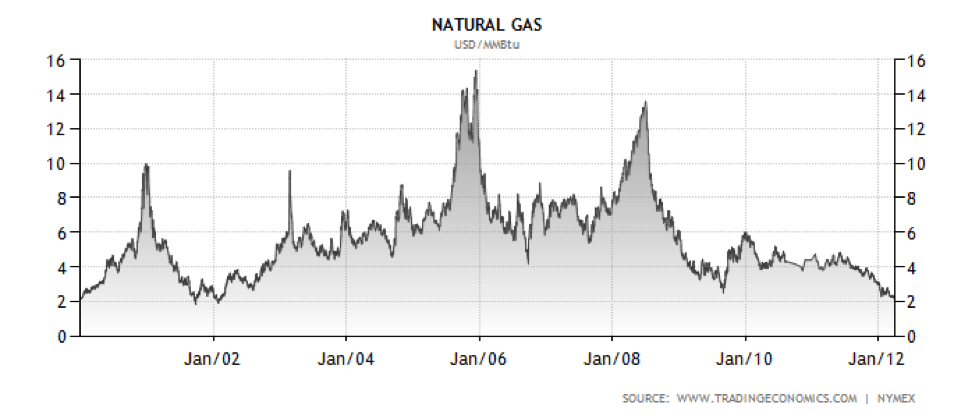 As the primary raw material, Natural Gas generally accounts for 50-55% of the total cost of sales for nitrogen fertilizer. If you follow natural gas prices at all, you'll know that's good news. Natural Gas prices have hit a 10 year low this month, presumably leading to lower cost pressures and higher margins. So, analysts foresee increased demand for fertilizer companies coupled with presumably stable or even lower costs…Win, Win.
For better or worse, the fertilizer industry has very high barriers to entry and economies of scale due to its global nature. Industry insiders believe it would cost from $1.6-$2.5B for a new company to enter the fertilizer game.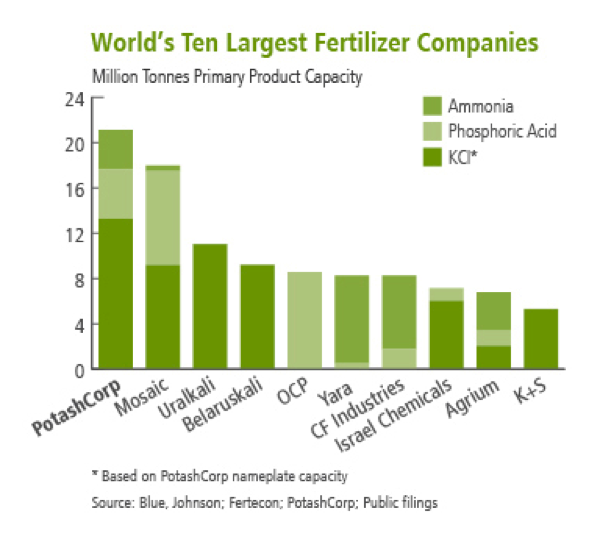 Fortunately, these barriers make it less tedious to identify the most attractive companies.  So let's look at the options:
Mosaic (MOS) – a company I own, MOS is a leader in Phosphate and Potash production, though not a big player in Nitrogen.
Potash (POT) – A direct competitor of MOS. POT, not surprisingly, leads world production in Potash and is among mkt share leaders in Phosphate and Nitrogen
Agrium (AGU) – 3rd largest Nitrogen producer. Well balanced across 3 fertilizers
Terra Nitrogen (TNH) – more or less a pure nitrogen play and owner of the 4th largest US plant.  At near $250, the price may be prohibitive, though company is extremely profitible with margins >60%.  It also pumps out a 7.3% dividend, far more than any of its competitors. However, it's at a +30% premium to historical P/E.
CVR Partners (UAN) – the smallest of the group, this TX-based company is growing rapidly and more profitable than many of the others.  However it's PE is comparatively high vs. the group. Nonetheless, Carl Icahn seems to be interested and given its smaller size, UAN could be the most likely takeover candidate in  the bunch.
CF Industries (CF) –  The US leader in Nitrogen, and #2 in the world (after Norwegian company, Yara (ADR: YARIY), CF provides 24% of worlds nitrogen and 12% of phosphate fertilizer. 91% of business comes from US. 
FERTILIZER COMPANY FUNDAMENTALS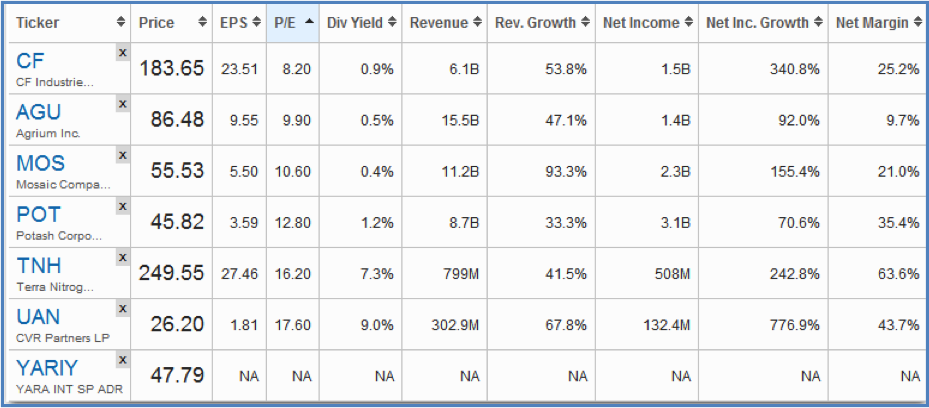 Despite the seemingly obvious indications of 2012 strength mentioned above, demand from traders and distributors slid in late 2011/early 2012 due to global economic worries, taking stock prices with them.  Although, they've rebounded notably in the first 3 months of the year, in most cases current PE multiples remain well below 5yr historical averages indicating several fertilizer businesses still represent good value given the favorable outlook going forward.
CURRENT VS. 5YR HISTORICAL P/E RATIOS OF FERTILIZER COMPANIES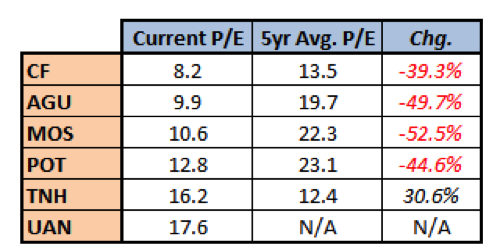 The WINNER:
CF Industries (CF) –  I love the relatively low P/E and current growth. They're heavily focused on Nitrogen (ammonia).  Despite recent price appreciation, it's PE remains nearly 40% below its 5 year average. The company has nearly $25 EPS and is growing both its top and bottom line.  Revenue is up +53% and NI +340% YoY.
Thanks for reading. Have a great week.
Please welcome Adam Graham as a new writer for See It Market:  Adam is a consumer products marketing leader and independent business consultant with over 12 years of professional experience in the consumer products, food & beverage, retail and financial services industries.  His career has required a great deal of moves throughout the U.S. and Europe, leading him to call "home" some very diverse cities including Boise, London, Amsterdam (on a house boat) and St. Augustine, among others. Although his career migrated to the world of consumer branding, Adam began his career as a licensed securities broker with Charles Schwab after receiving a bachelor's degree in corporate finance & international business from the Kelley School of Business at Indiana University in 2000.  His love affair with the market came from his maternal grandparents who, when he was just 10 years old, enticed him to save and invest his allowance in mutual funds by promising to match him dollar for dollar, thereby cementing the importance he has placed in solid employer 401k plans ever since. Adam's investment approach blends fundamental research with a more nebulous and innate sense of popular momentum.  He believes in consumer trend-spotting and tries to identify growing macro trends by gauging the pulse of society and media to locate emerging opportunities, preferably before resulting financial numbers are available for more analytical investors to jump on board. Adam currently lives in Austin, TX with his girlfriend and dog, Doug.
—————————————————————-
Any opinions expressed herein are solely those of the author and do not in any way represent the views or opinions of his employer or any other person or entity.
The author has position in MOS at the time of publication.
Twitter: @joagraha  @seeitmarket     Facebook:  See It Market