Quiet holiday trading prevailed on Monday for investors.
The Russell 2000 ETF NYSEARCA: IWM had a narrow trading day and an inside day.
Treasury bond yields fell and precious metals rose.
Several key trading levels from Friday remain pretty much the same for the stock index and sector ETFs we follow.
The charts of the Economic Modern Family of ETFs are on a weekly timeframe – see image below.
A perfect inflection point for Monday, the Russell 2000 ETF (IWM) remains priced under the 50-week moving average (blue).
The Regional Banks ETF NYSEARCA: KRE, still trades under both the 50 and 200-week moving averages
The Transportation Sector ETF NYSEARCA: IYT remains under the 50-week moving average.
The Retail Sector ETF NYSEARCA: XRT never tried to pierce those weekly moving averages. The phase is bearish.
The Biotechnology Sector ETF NASDAQ: IBB, also gained in price, yet it too is underneath the major weekly moving averages.
And our wonder woman sister, the Semiconductors Sector ETF NYSEARCA: SMH, had the best day of our 6 ETFs, rising by about 0.25%.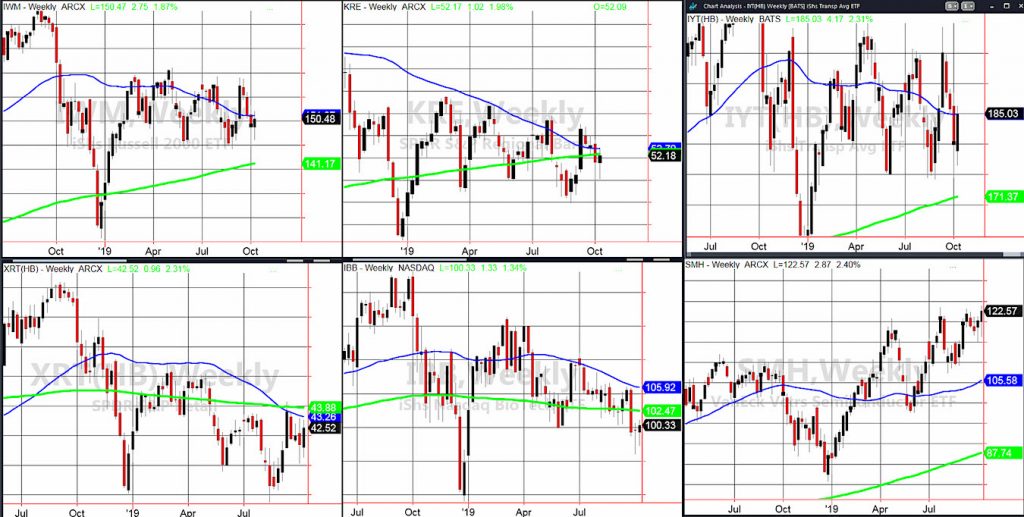 S&P 500 (SPY) 293.34 pivotal price support or the 50-day moving average. 300 is price resistance.
Russell 2000 (IWM) 148.50 price support and 151.95 price resistance.
Dow Jones Industrial Average (DIA) 264.50-265 pivotal price support, 270 price resistance.
Nasdaq (QQQ) 188 is pivotal price support with 193.30 resistance.
KRE (Regional Banks) 51.35 is price support with 52.80 acting as resistance – note also an inside week.
SMH (Semiconductors) 120 is price support and 124 is resistance.
IYT (Transportation) 185 is price resistance with support at 181.25
IBB (Biotechnology) 100 is a pivotal price level, with 102.50 serviing as price resistance.
XRT (Retail) 43-44 is huge price resistance, 41.50 is support.
Twitter: @marketminute
The author may have a position in the mentioned securities at the time of publication. Any opinions expressed herein are solely those of the author, and do not in any way represent the views or opinions of any other person or entity.