Six stock market charts in one clean picture… seems to tell us all we need to know.
Here are the weekly charts of the stock market's "Modern Family".
From top left:  The Russell 2000 ETF (IWM), Transportation Sector ETF (IYT), and Retail Sector ETF (XRT).
From bottom left:  Biotechnology ETF (IBB), Regional Banks ETF (KRE), and Semiconductors ETF (SMH).
Putting aside the midterm election, Fed minutes out Thursday and any other piece of news currently hitting the tape-
What do these pictures tell us?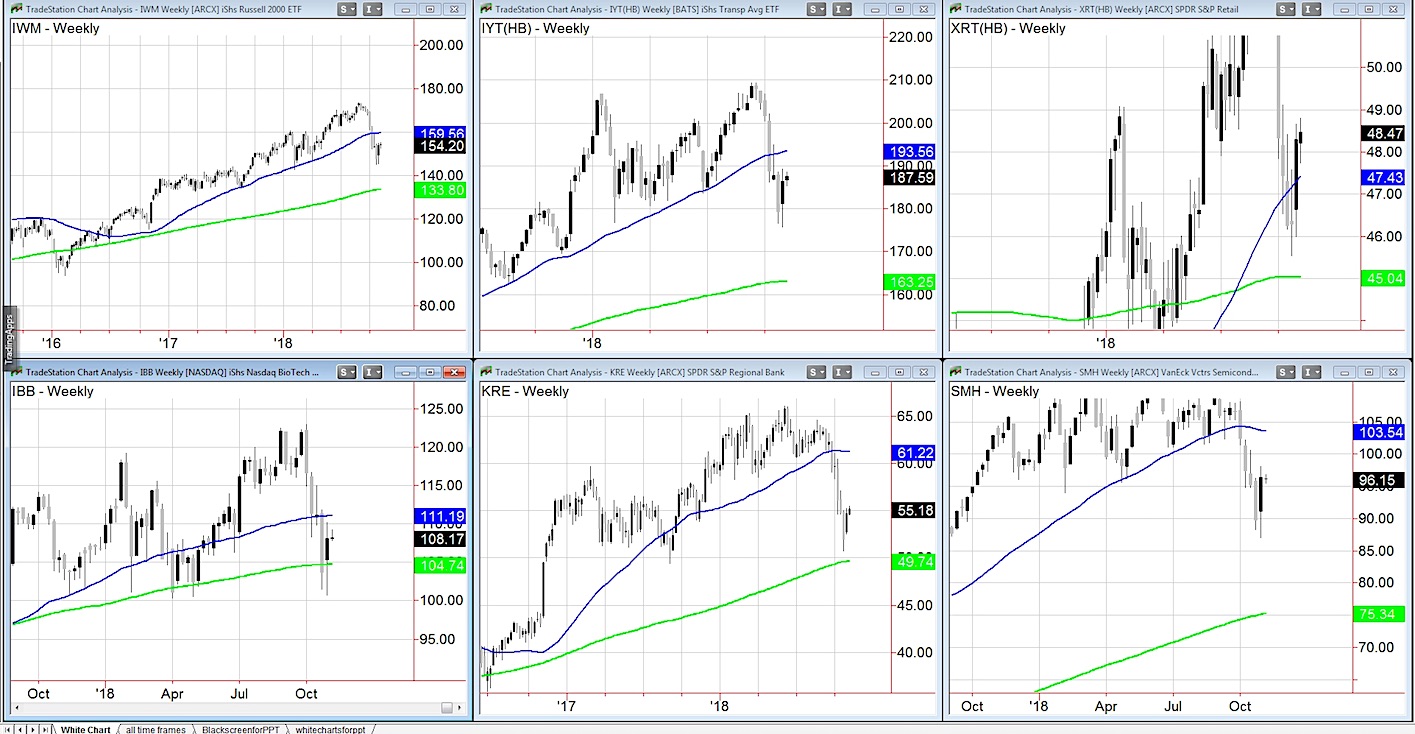 The Russell 2000 remains in a caution phase with the 50-week moving average (blue) starting to neutralize in slope.
Transportation is also in a caution phase, yet the slope on the 50 WMA is rising. Best hope is if this sector gets through 190 and then make its way towards the 50 WMA.
Retail is in the best shape above the 50 WMA yet into some big resistance at 49.00.
Biotechnology at least returned over the 200 WMA (green) and could possibly get up to the 50 WMA. That would be more positive.
Regional Banks, the first to break all support, did hold the 200 WMA. The slope on the well overhead 50 WMA is neutral to down.
Semiconductors have a negative slope on the 50 WMA. Last week's range is key. 86.95-98.13. In between, noise with a cautious bias.
What do these pictures tell us?
That seasonals favor Retail, but with the rest of the Family in warning, unless IYT saves the day, market remains under pressure.
Stock market ETFs trading levels:
S&P 500 (SPY) – 275.00 pivotal for tomorrow
Russell 2000 (IWM) – 150.50 major support with 156.35 the closest resistance point
Dow Jones Industrials (DIA) – 255 cleared so now pivotal for tomorrow
Nasdaq (QQQ) – 172.25 the 200 DMA resistance. 168.60 support
KRE (Regional Banks) – Closed over 55-a start anyway
SMH (Semiconductors) – 93.05 support on daily chart with 102 overhead resistance
IYT (Transportation) – 182 the 23-monthly support with 190 the point to clear, then 194 big resistance
IBB (Biotechnology) – 105.00 support with 112 big resistance
XRT (Retail)  – 47.80 the 200 DMA to hold now. 49 closest resistance
Twitter:  @marketminute
The authors may have a position in the mentioned securities at the time of publication. Any opinions expressed herein are solely those of the author, and do not in any way represent the views or opinions of any other person or entity.