September wasn't kind to the Emerging Markets (EEM). After ripping higher throughout much of the summer, EEM has been punished by what appears to be a shift in capital flows, as the US Dollar has risen smartly while US Equities have held up pretty well. All told, investors watched the Emerging Markets fall 7.77 percent in September.
That's pretty unreal considering that was the performance for a single month. And although several emerging markets struggled, it's clear that Brazil and Turkey were a big drag on the sector. Below is a performance breakout by select emerging markets:
Brazil (EWZ) down 19.1 percent
Turkey (TUR) down 11.5
Russia (RSX) down 6.3 percent
India (PIN) down 2.6 percent
China (FXI) down 5.4 percent
Mexico (EWW) down 4.2 percent
In the chart below, you can see the break down of EEM in slow motion. First the 50 day moving average was broken, then lateral support and the uptrend line around $43, followed by a move below the 200 day moving average. This amounts to some significant technical damage that likely requires some time to heal. That said, the Relative Strength Index (RSI) just dropped under 30, indicating that this leg lower may be in it's final stages. So perhaps October will bring some sort of tradable bottom.
EEM Daily Chart w/ various Emerging Markets Performance Charts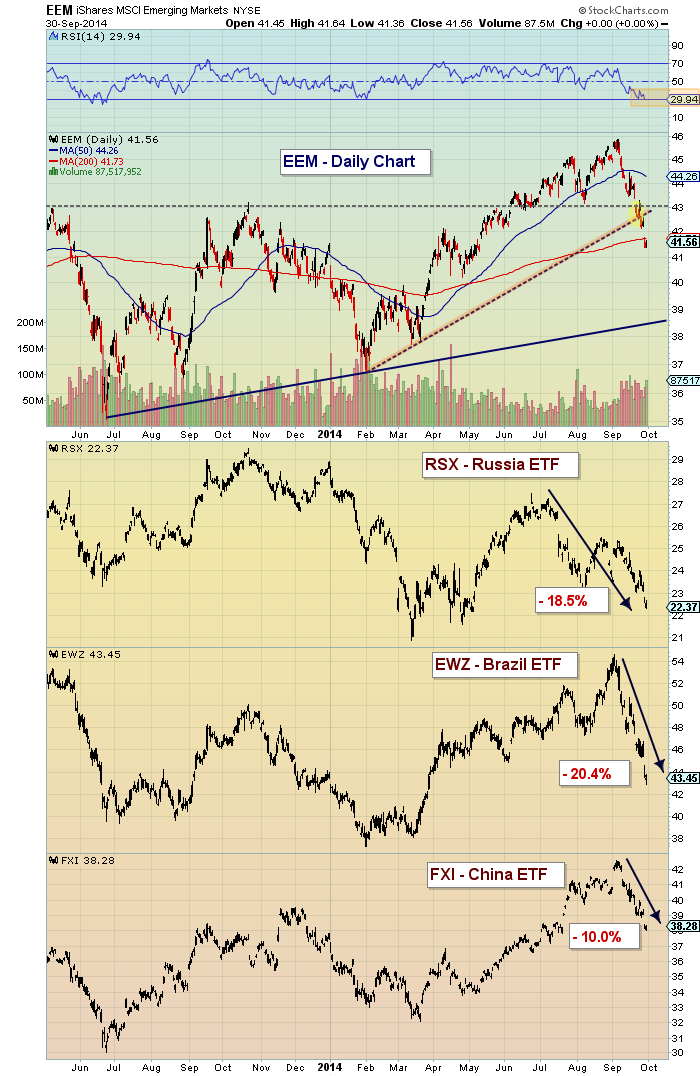 The recent drop in Emerging Markets is even more concerning when compared to the SPDR S&P 500 (SPY). I covered the Emerging Markets underperformance earlier this month on See It Market, and again within a market update for Yahoo Finance, and it seems this theme decided to stick around for a while. For the month, SPY was down 1.84 percent compared to EEM being down 7.77 percent. This type of investor behavior has to make one wonder is something larger is afoot. That said, some mean reversion may provide an impetus for a tradable bottom in October. No doubt, global investors would welcome an end to the Emerging Markets fall.
EEM:SPY 1 Hour Chart – September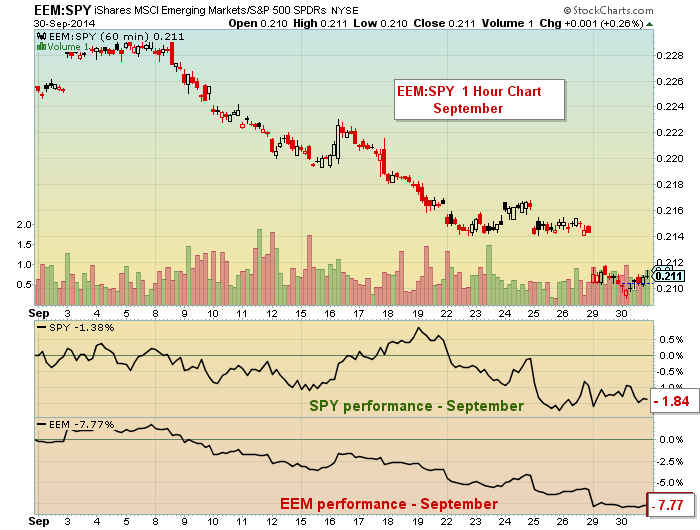 Either way you slice it, September was a month to forget for the Emerging Markets. The weeks ahead will determine if this is part of a larger shift in capital flows, or if the Emerging Markets can stabilize for a 4th quarter run. Thanks for reading.
Follow Andrew on Twitter: @andrewnyquist
No position in any of the mentioned securities at the time of publication. Any opinions expressed herein are solely those of the author, and do not in any way represent the views or opinions of any other person or entity.