Dow Transports (DJT, IYT): an index few care to talk about until a major Dow Theory signal trips; or some logistics merger or airline debacle occurs.
Along the lines of the first category, the Transports are receiving some attention for their recent out-performance vis-a-vis the far more widely-followed Dow Industrials (DJIA, YM, DIA).
Indeed, DJT is up almost 12% in the last 10 sessions. The natural question to ask is "why" – to which I have no answer; except that it isn't all that remarkable, after all: the Dow Transports have been on an unmitigated tear, up as much as +32.5% YTD, which just bests the Russell 2000 (RUT, TF, IWM), a close second up as much 32.15% YTD at last week's high. Up +19.9% at the YTD market high on 09/18, at its best DJIA doesn't come close.
Dow Jones Transportation Average (DJT) – Monthly: At Secular Rising Channel Resistance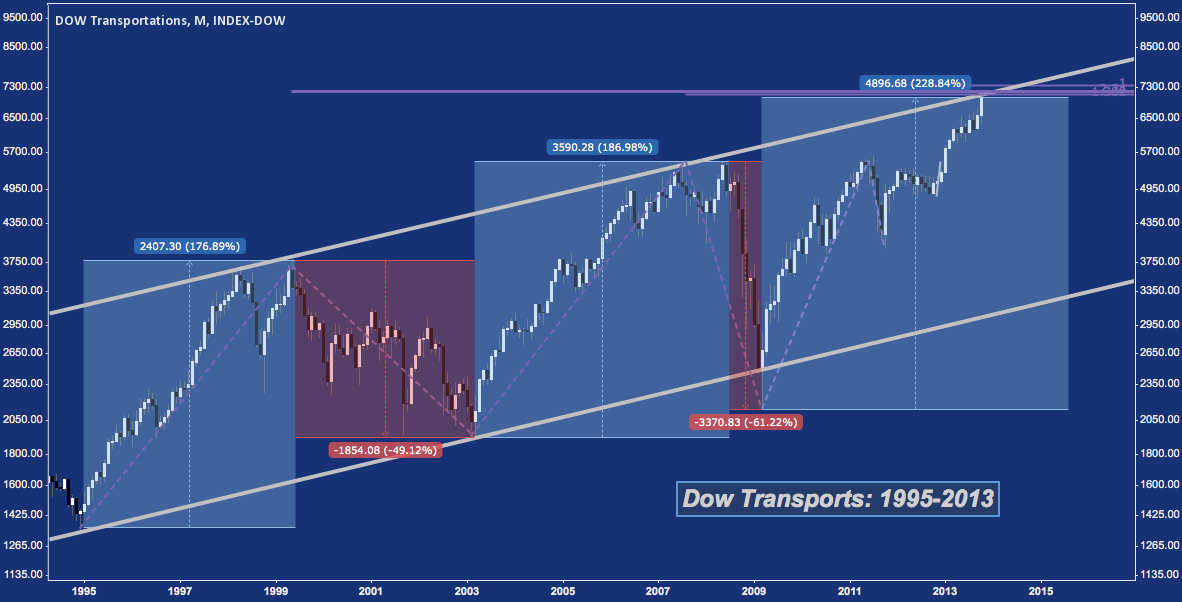 What is clear is that the Dow Transports have skyrocketed (as they often do – check out those rallies), straight into fibonacci cluster resistance (purple lines) at secular rising channel resistance (thick silver lines).
This chart is a great example of how monolithic strongly trending markets can be; and how quickly disconcerting breakdowns can unravel them.  From December 1994 to April 1998, DJT rallied 177%. Some were surely pessimistic on Transports, going into that Spring just prior to the LTCM meltdown; but they were few and probably sorely chastened after their futile attempts to short the index's constituents.  But over the next 6 months, the index gave up almost 38%.
Speaking of 177% – 1995-2000 is justifiably heralded as one of the most impressive bull markets of all time.  And impressive as that performance is, since March 2009 DJT is up 229%.  That's neck-in-neck with the NASDAQ 100's (NDX, NQ, QQQ) recent return to the 61.8% retracement of its March 2000 Dot-Com high near 3300, adding +233% over the same period.
In the context of this monthly chart (i.e. a medium-to-long term time frame) , is this "new paradigm" of bullish resolve typified by the Dow Transports about to be significantly tested?
Twitter: @andrewunknown and @seeitmarket
Author holds no position in any securities/instruments mentioned at the time of publication.
Any opinions expressed herein are solely those of the author, and do not in any way represent the views or opinions of any other person or entity.