How many of you have tried this while hiking or camping in the woods?
You gather a stack of dried sticks, hold a mirror so that the sun reflects on those sticks, and then try to ignite a fire.
I imagine most of you were unsuccessful and thankful you also carried matches or a lighter.
The photo shows a scientist trying the same experiment with marshmallows. Way more fun than sticks!
Now, the stock market seems to be trying its own version of igniting sticks using only a mirror and the sun.
This is as clever a way I can concoct for you, to describe investor sentiment, recent economic statistics and the upcoming FOMC minutes this Wednesday.
This stock market rally (should the Fed hold off on a rate cut right now), could fizzle out before it even starts.
On the other hand, should the Fed come up with an assistive flame, then the market could light up like a conflagration.
All fires go out eventually.
However, before we make that determination, let's look at the weekly charts of the economic modern family.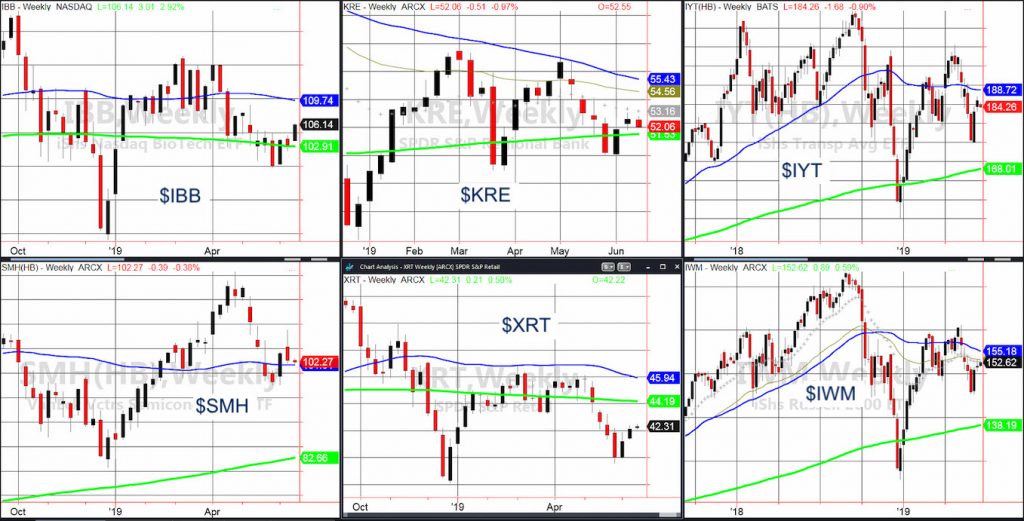 Biotechnology is the winner of the most improved since last Friday. Now over the 200-week moving average (green), IBB closed up nearly 3%. A lot had to do with the Pfizer deal and not necessarily that the specs are out in force.
Other than that, Retail XRT and the Russell 2000 (IWM) closed green.
However, neither made any great inroads as far as technical breakthroughs.
Transportation IYT is trading inside last week's trading range. Since it close red, best we can say is that that sector is on pause.
Semiconductors (SMH) and Regional Banks KRE also closed red.
SMH sits right atop the 50-WMA (blue). KRE needs to hold the 200-WMA.
That leaves us with many different indicators to focus on.
Will SMH and KRE hold? Can XRT keep running? Will IWM clear resistance (that would be very good). Also, same with IYT.
At this early point of the week, a word to the wise—on a cloudy day, do not expect a fire to ignite without a reliable Firestarter.!
"Plant Your Money Tree: A Guide to Growing Your Wealth" BookAuthority's Best New Wealth Books:
https://bookauthority.org/books/new-wealth-books?t=ipp94p&s=award&book=153812257X
The book is available for purchase on Amazon.
S&P 500 (SPY) – 287.00 the 50-DMA is super pivotal. And must clear 290 once and for all.
Russell 2000 (IWM) – 152.75-153.35 is where the resistance lies. 151.65-the high 2 weeks ago-is pivotal. Support at 150.75
Dow (DIA) – 260.06 the ever so important pivotal level. 262.87 the high to clear
Nasdaq (QQQ) – 183.59 the 50-DMA finally cleared. Now it needs to close above it again.
KRE (Regional Banks) – 51.40 support. Overhead resistance at 53.50
SMH (Semiconductors) – 105.50 resistance. 103 pivotal. 101 support.
IYT (Transportation) – Must clear 190 to look good. 185.50 pivotal. 183.50 support to hold.
IBB (Biotechnology)  – 105.60 is the 50-DMA cleared today. Must do it again.
XRT (Retail) – 42.45 the major resistance with now, 41 pivotal and 40.00 big support.
Twitter: @marketminute
The author may have a position in the mentioned securities at the time of publication. Any opinions expressed herein are solely those of the author, and do not in any way represent the views or opinions of any other person or entity.