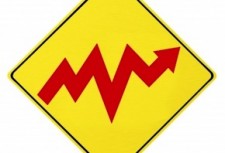 The ishares Brazil ETF (EWZ) has a 30 day implied volatility of 70%. This means that the options market is pricing in a move of plus or minus 20% on EWZ within the next month. The precise calculation to find the expected move based on the IV30 percentage is (IV30/sqrt12) ~ (70/3.464) = 20.2%. Recent news surrounding the Brazil elections is obviously casting uncertainty on the Brazil stock market.
Looking at the IV curve, we see that the IV30 is greater than the IV60, which is greater than the IV90. The implied volatility on the Brazil ETF is in steep backwardation. This means volatility is particularly expected in the near term, although an IV90 of 48 still implies a 24% expected move in the next 3 months.
You can see the prior 12 month chart of implied and historical volatility shows a massive spike in volatility since early September.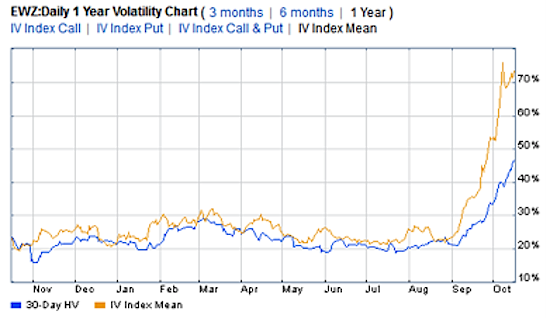 Turning to the price chart, EWZ dropped sharply in early September following an August rally. EWZ dropped 24% following the September peak. A relatively mild October rally of 16% took place, however the rebound stalled at the 50% retracement of the September decline. Bulls would like to see the $48 level cleared, while bears will look to take EWZ below $41. With a 30 day implied volatility of 70, either of these levels will likely be reached very soon.
iShares Brazil ETF (EWZ)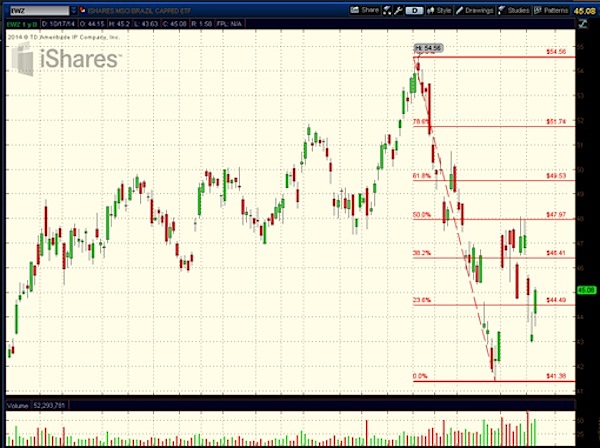 Follow Mike on Twitter: @MikeZaccardi
No position in any of the mentioned securities at the time of publication.  Any opinions expressed herein are solely those of the author, and do not in any way represent the views or opinions of any other person or entity.