There are so many traders and investors that remain bullish even when the stock market is under distribution.
BUT, as many investor come to find out, bullish opinions during market corrections can be quite expensive. That's why smart traders and investors follow the trend. They go with the flow of price action.
And thus far, the price action has been quite bearish. Trying to call a bottom or trading with "hopes" of a bottom in mind can be costly. It's best to let your process of stock market signals and indicators put you in a trade (and take you out of one).
Below are seven stock market signals I need to see to become bullish again and stop shorting strength primarily and start trading more on the long side:
All stock market  indexes need to begin to trade above the 10 day EMA consistently for multiple days.
The 10 day EMA needs to hold as intra-day support.
The market needs the shorter term moving averages to begin to cross back over the longer term moving averages. Like the 5 day EMA over the 10 day EMA and the 21 day EMA over the 50 day SMA etc.
The up days need to be on higher volume than the down days.
Index ETFs need a MACD bullish crossover that holds.
A large bullish engulfing candlestick that closes over the previous days price range and the 5 day EMA.
Finally Index ETFs needs to close over the 200 day as my first sign of bull power and the potential for a return to all-time highs.
If all these signals are met, I will become bullish again. Until then, the bears have control and I will be trading primarily on the short side.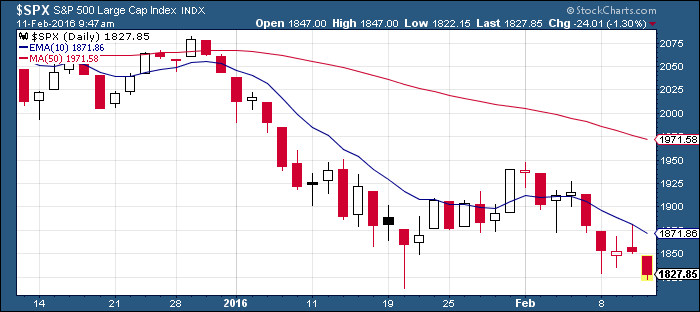 Twitter: @SJosephBurns
Read more from Steve on his blog NewTraderU.
Any opinions expressed herein are solely those of the author, and do not in any way represent the views or opinions of any other person or entity.