The Health Care Sector (NYSEARCA:XLV) and several select large cap pharma, drug, and biotech stocks are attempting to bottom.
If this industry gets going, it could mean a short-term bottom here in December and an excellent mean reversion trade between now and February. The Health Care sector is by far the worst performing sector of the year at more than 400 bps lower than the next worst sector, Real Estate.
The move to multi-day highs in the Health Care Sector ETF (XLV) has been accompanied by rallies in the Pharmaceutical Index (INDEXNYSEGIS:DRG) and the Medical Devices ETF (NYSEARCA:IHI). This should allow the broader group to push higher and test its down trend resistance lines from the July highs – see XLV chart below.
YTD, the Healthcare sector is down -4.83%, but looks like an attractive risk/reward for upside follow-through.
Here is a list of Extended stocks in the group (intermed. Term):   UNH, HUM, AET, SYK, DGX
Here are the most attractive of the beaten down stocks (in my opinion): LLY, MRK, VRTX, ALXN, BMY, EW
Okay, let's review charts of the major indices/ETFs for health care stocks, pharmaceutical stocks, and drug stocks to see if these groups are close to putting in tradable bottoms.
Health Care Sector (XLV) – The down trend from July is in tact, but I'm seeing encouraging signs of rallying to multi-day highs today.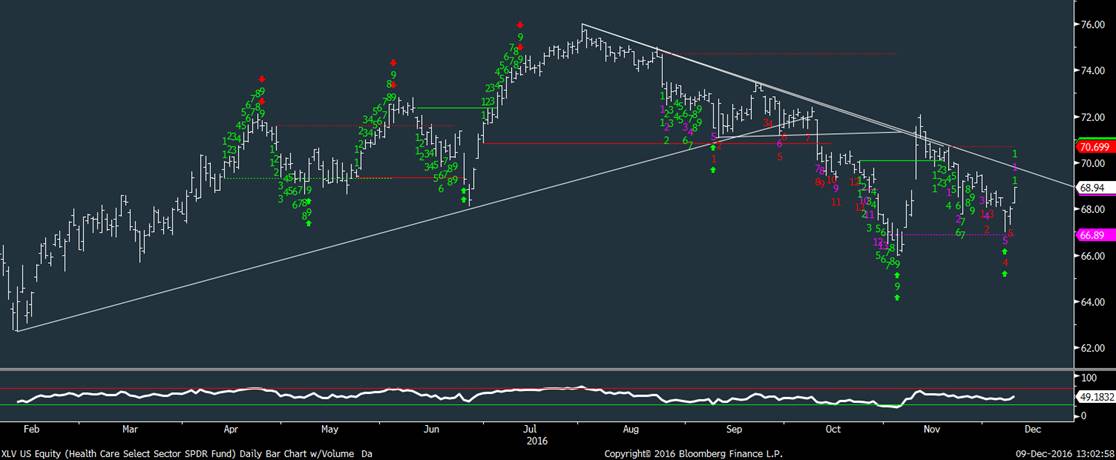 Pharmaceutical stocks and Index (DRG) – This sector is also making a sharp advance to multi-day highs which should allow for a test of 480. Over this level and pharmaceutical stocks would be on the bulls radar.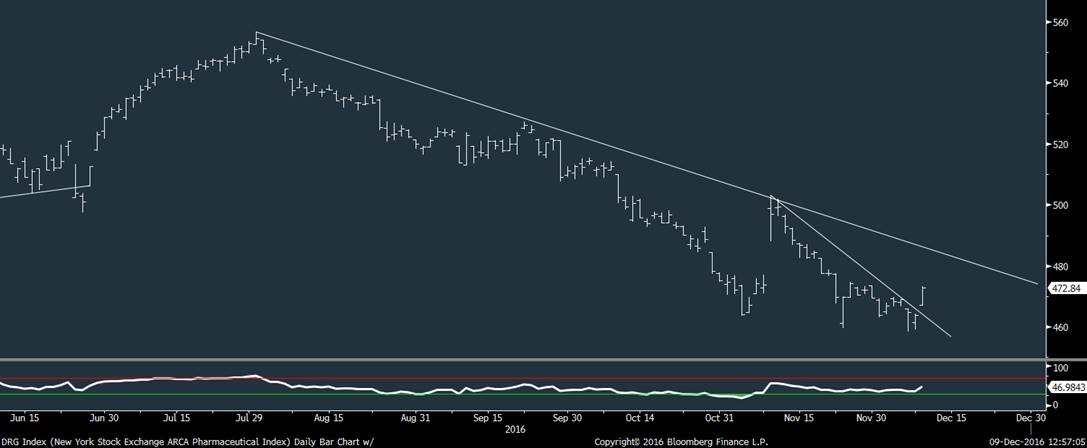 Biotech ETF (NYSEARCA:XBI) –  Biotech stocks have not yet made the move that DRG and XLV have so a bit more selectivity is required here. However, it should pay to watch for when this downtrend is broken to the upside, as it will result in a similar mean reversion trade.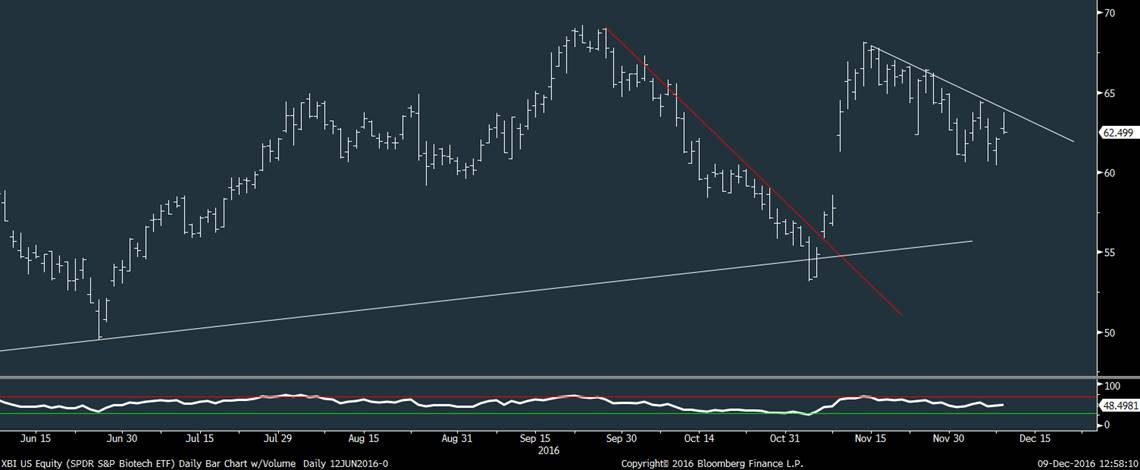 continue reading on the next page…