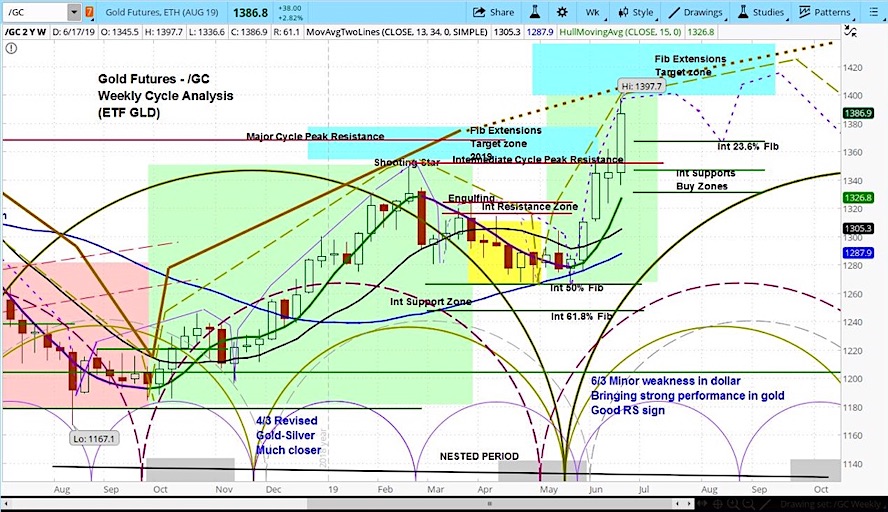 Gold Futures Weekly Chart
Gold futures are rising sharply into Friday's trading session as investors digests the Federal Reserve's signal that interest rates may drop in the future. 
Based on its market cycles, gold has had a nice run but higher prices are still possible. Especially with a weakening US Dollar and interest rates.
The Federal Reserve on Wednesday decided to leave rates unchanged but signalled it was open to lowering rates in the future. According to Chair Jerome Powell, "Many participants now see the case for somewhat more accommodative policy has strengthened."
Lower interest rates make the dollar less attractive told hold, which pushes the price of gold higher in relative terms. As such gold futures rose by $47.70 or 3.5% on Thursday. This equated to the highest gold prices in over five years.
Our analysis for gold futures focuses on their market cycles. We believe gold is still in the rising phase of its current cycle.
While it nearly touched the bottom end of our target/resistance zone based on Fibonacci extensions, we certainly see higher prices as within the realm of possibility. 
For more from Slim, or to learn about cycle analysis, check out the askSlim Market Week show every Friday on our YouTube channel.
Twitter: @askslim
Any opinions expressed herein are solely those of the author, and do not in any way represent the views or opinions of any other person or entity.