After our late spring lull, stock market bulls have come charging back.
This comes on the heels of a dovish Federal Reserve and hopes for a new trade deal with China.
So the million dollar question: Is the stock market ready to break out for good? No, I don't think so… at least not yet. However, there is potential for an additional 3 or 4 percent upside over the near-term.
Today, we'll look at a chart of Dow Jones Industrial Average (INDEXDJX: .DJI) and highlight where we may be headed next. And why this rally could be short-lived.
Note that the following MarketSmith charts are built with Investors Business Daily's product suite.
I am an Investors Business Daily (IBD) partner and promote the use of their products. The entire platform offers a good mix of technical and fundamental data and education.
Dow Jones Industrial Average "daily" Chart
The Dow Industrials have been in a trading range for the better part of the last 18 months. In fact, the whole stock market has been in a range. And this will likely continue into early next year as there are several inter market divergences. Just check out charts of the FAANG stocks (Facebook, Amazon, Apple, Netflix, Google).
That said, we do have the potential to briefly stretch the range to the upside. It should look something like a breakout fakeout, with the Dow Jones Industrials rising to up near 27000 or perhaps a bit higher to 27526-27817 if we see a measured move or should the "flag" pattern reach its full potential.
Either way, we'll need to clear all-time highs at 26951 first. Hard to say if stocks pause and pullback here, or if we just march up to the targets. Either way, I'm planning to sell into this strength.
What would change my mind? If we breakout above the current all-time highs by 3 to 4 percent and successfully re-test the breakout. Until then, I'm expecting more rangebound activity throughout 2019.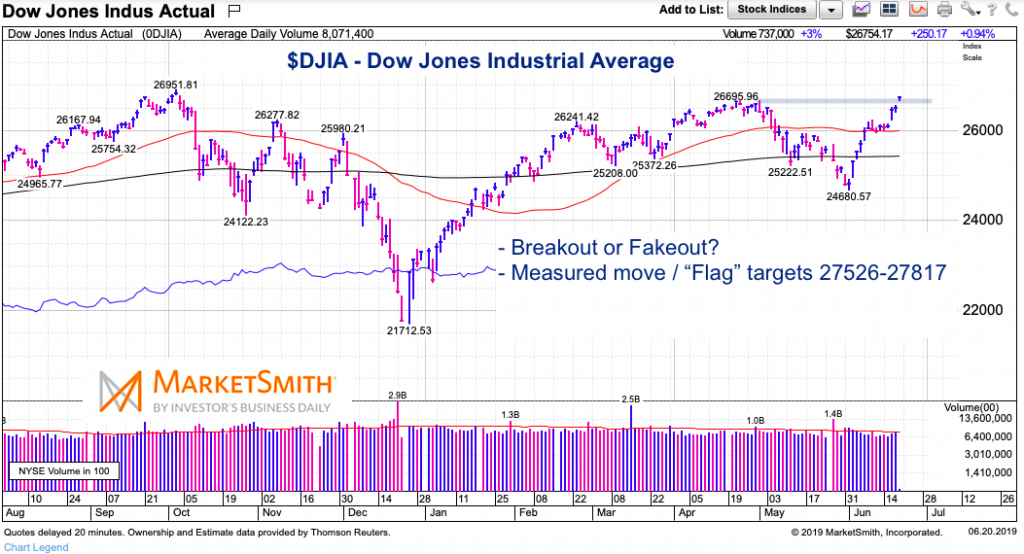 Twitter: @andrewnyquist
The author may have a position in mentioned securities at the time of publication. Any opinions expressed herein are solely those of the author, and do not in any way represent the views or opinions of any other person or entity.