This week's breakout on the S&P 500 has gotten plenty of attention. The index just continues to shake off pullbacks and grind higher. Is this the last hurrah? Or is this the start of another big leg higher?
Earlier this week, I posted a research piece including several macro chart setups to watch this week.  One of those charts highlighted the breakout on the S&P 500 and how it might play out.  The typical breakout game plan includes a push higher, followed by a retest (i.e. pullback).  This scenario is still very much in play, but let's add a bit of detail, including some Fibonacci price targets to see how high the index may run before that all-important retest.
Below is an updated version of the S&P 500 chart that I previously posted. One technique to use when looking at prospective price targets is Fibonacci Extensions. J.C. Parets offered up a solid post on Fibonacci Extension targets last year.
With this in mind, here's a rough breakdown where the index may be headed:
Using two common metrics for finding Fibonacci price targets yields a minimum target of 1921/22 (1.272 extension), followed by 1949/50 (1.618). Again, this is short-term.
If the index successfully retests the breakout, then it could potentially target 1980 on a measured move or 2032 (2.618 extension) on the extreme.
Another metric for timing short-term tops/bottoms is DeMark setups. The S&P 500 (and many major indices) recorded bar 6 of a 9 daily sell setup.  If the count continues, the S&P 500 may reach a short-term trading top by early next week. And this may set up for a few days of weakness and a possible retest that determines how June sets up.  Trade Safe.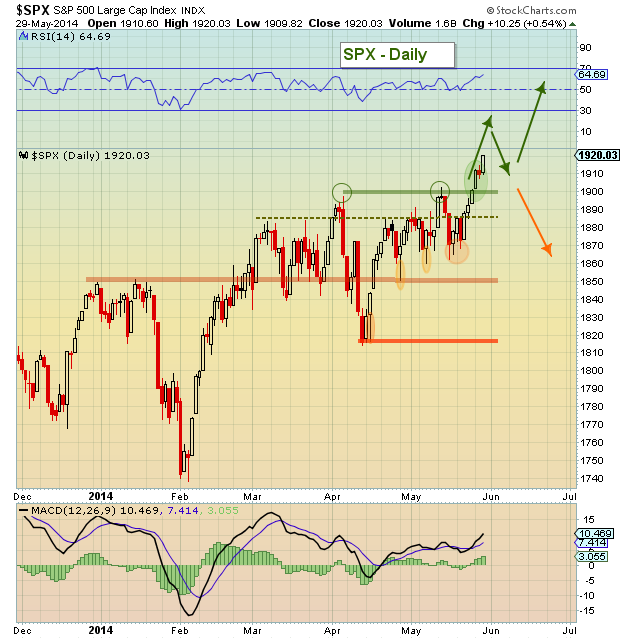 No position in any of the mentioned securities at the time of publication.  Any opinions expressed herein are solely those of the author, and do not in any way represent the views or opinions of any other person or entity.