Both Gold and Silver have been under selling pressure for a majority of the past few years. However, last year silver prices were hit much harder than gold prices. In fact, gold was down just over one percent on the year while Silver fell nearly 20 percent. This got me thinking about the gold to silver ratio (price per ounce of gold divided by price per ounce of silver).
But, before I touch on the ratio, let's take a look at how the metals performed last year.
Gold vs Silver Performance Chart – 2014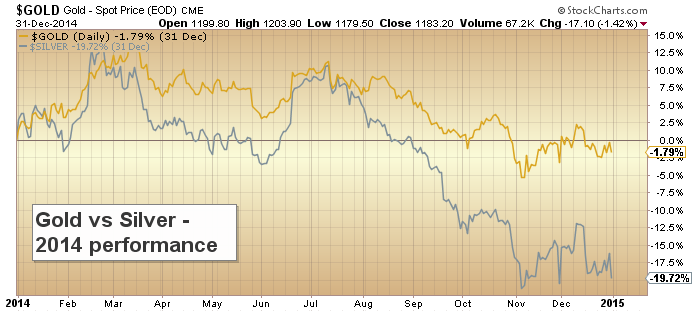 Silver's underperformance in 2014 is pretty glaring. And this acceleration has pushed the gold to silver ratio toward an extreme. And based on the chart below, it is likely that silver will begin to outperform gold at some point in 2015. This is due to the Relative Strength Index (RSI) of the ratio nearing a point where a reverse in trend has occurred in the past.
I wrote about this on my tumblr earlier today, but wanted to share some of the implications of the Gold to Silver ratio here:
The chart does NOT imply that a rally in silver prices is imminent;  it simply indicates that it should begin to perform better than gold at some point in 2015.
As deflation concerns continue to swirl, precious metals are still an 'out of favor' asset class. A bottom for both gold and silver will depend on several variables, but here are a few that would likely boost precious metals: a return of broad-based global growth, a softer dollar, AND/OR a rise in geopolitical tensions.
If/When silver begins to outperform gold, it will likely be a positive indicator for precious metals. Silver is like Gold's high-beta brother. Therefore, an uptick in silver performance should bode well for precious metals investors. But until then…
Gold to Silver Ratio Chart – 1980-Present
You can also read my thoughts on gold and silver fundamentals heading into 2015. Thanks for reading.
Follow Andy on Twitter:  @andrewnyquist
No position in any of the mentioned securities at the time of publication. Any opinions expressed herein are solely those of the author, and do not in any way represent the views or opinions of any other person or entity.